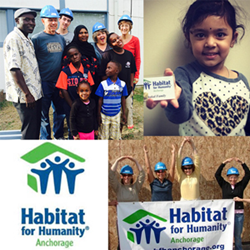 Habitat for Humanity has done tremendous good for many families in the area, but there's still more to do.
Anchorage, AK (PRWEB) August 21, 2015
Devery Prince Insurance, a full service insurance firm with offices that serve the greater Anchorage area, is continuing their ongoing "Agents of Change" community improvement program, this time by working with the Anchorage chapter of the venerated international organization Habitat for Humanity.
Just as it does throughout the world, the Anchorage chapter of the Habitat for Humanity charity works closely with members of the local community to safe and affordable housing for qualified low income residents. Once the house is constructed, the partner family purchases the home at the cost of construction. In addition to building affordable housing, Habitat for Humanity offers partner families training and counseling on house maintenance, community involvement, and financial management.
"It's energizing to work with folks who care so much about our community," says Devery Prince, owner and operator of Devery Prince Insurance. "Without a doubt, Habitat for Humanity has done tremendous good for many families in the area, but there's still more to do."
Building on a list of business and personal contacts throughout Anchorage and beyond, Prince and his team are reaching out to families, clients, and fellow professionals in an effort to raise awareness about the work being done by Habitat for Humanity, as well as gathering donations that will be used to fund future efforts.
Anchorage Habitat for Humanity is only the latest charity supported by Devery Prince Insurance. With over a dozen local charities supported over the last year, Devery Prince and his team have assisted causes that range from feeding hungry children to rescuing unwanted pets. "I guess we just want to help the city of Anchorage reflect the spirit and charity of the people who live here," says Devery.
Readers who wish to help Devery Prince and his team as they support the Anchorage chapter of Habitat for Humanity are invited to visit the charity page and make a direct donation to the cause: http://www.deveryprince.com/Helping-Our-Neighbors-Build-Homes_19_blog. Readers who want to learn more about the other charities that have been supported by Devery Prince and his team are invited to visit the Devery Insurance Community Causes page: http://www.deveryprince.com/community-cause.
About Devery Prince Insurance Agency
Serving from offices in Anchorage and Wasilla, AK, Devery Prince Insurance Agency is committed to bringing local communities an insurance agency that understands their needs. Taking pride in its team of professionals by day, and PTA members and childrens' sports coaches by night, Devery Prince Agency works with carriers to assemble a variety of products and services for its customers. From all of the products a typical consumer needs (home, auto, boat, ATV, etc.,) to all financial services products and tools (retirement, savings, long term care, disability, etc.,) and business insurance (liability, building, auto) to workplace and individual benefits (accident, critical illness, cancer, disability, life), Devery Prince covers all the bases for insurance needs in South Central Alaska. More information about Devery Prince Agency is available at http://www.deveryprinceagency.com/. To immediately reach an expert at the agency, call (907) 279-9000, or (907) 376-7638.