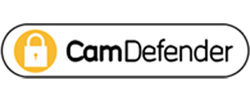 Orlando, FL (PRWEB) October 31, 2016
Cam Defender Inc., the mobile tech security accessories company, announced today the release of their new line of hacker proof cell phone cases with camera privacy lens covers in an array of solid and unique transparent colors. The online retailer also launched a stylish new line of Web Cam Covers known as Cam Shields in Snake Skin, Metal, Leather and Rhinestones designs. All products are available now with free shipping within the continental U.S. on orders of $30 or more.
Cam Defender's new hacker proof cell phone cases deliver a sleek, minimal design that offers protection against hackers as well as unfortunate drops. The case features two independent camera lens covers which can be positioned over the camera when not in use to prevent hackers from remotely taking unobstructed photos or videos without the cell phone owner's knowledge or consent. Simply slide the lens cover to the open position when the camera is in use. The cases literally hacker proof cell phones with their patent-pending camera privacy lens covers – a feature only found on Cam Defender cell phone cases. The cell phone cases come in 28 different solid and transparent colors and are currently priced at $19.99 or less.
For the ultimate in Web Cam security for Laptops, SmartTVs, PCs, Desktops, Computers and Monitors, Cam Defender has released for Holiday 2016 a new line of ultra-stylish yet highly effective Web Cam Privacy Covers known as Cam Shields. Placed over the camera, the low-profile products come in Leather, Metal, Rhinestone or Snake Skin designs. With over 75 designs and currently priced between $4.49 and $4.99, Holiday gift givers have numerous choices – making Cam Shields the perfect stocking stuffer or holiday gift under $10 for friends, family or coworkers.
Visit https://www.camdefender.com/ to purchase Cam Defender's hacker proof cell phone cases and Cam Shields Web Cam Privacy Devices. For all the latest news on Cam Defender's new mobile tech privacy products, deals or coupons follow them on Facebook at Facebook.com/CamDefender , Twitter at @CamDefenderInc or on Instagram at instagram.com/CamDefender/.
Media Contact for Product Samples and Images:
RPR Public Relations, Inc.
Tel. 786-290-6413