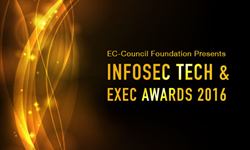 Top representatives from privacy advocacy groups will debate members of law enforcement and lawmakers to discuss where the line should be drawn between privacy rights and security.
Atlanta, GA (PRWEB) July 12, 2016
EC-Council Foundation's Hacker Halted conference has made waves in the information security industry for years and 2016 will be no exception. The theme for the 2016 edition of Hacker Halted is "The Cyber Butterfly Effect: How Small Mistakes Lead to Big Disasters." The conference, held in Atlanta, GA annually since 2013, will be an opportunity for the speakers and audience to explore how cybersecurity decisions, mistakes, and oversights can create vulnerabilities and lead to embarrassing breaches. When hackers are constantly attempting to penetrate an organization's security, vulnerabilities don't go unexploited for long.
At the Hacker Halted conference, some of the highest-level, most renowned speakers will address the crowd on topics that are most crucial to information security today. Topics include open source intelligence, web app security, biohacking, advanced SQL interjection, and many more and all relate to how most information security programs are one or two bad decisions away from catastrophe.
The conference is also the platform for an exciting debate exploring the controversies of privacy vs. safety. Top representatives from privacy advocacy groups will debate members of law enforcement and lawmakers to discuss where the line should be drawn between privacy rights and security. The debate will take place during a joint session of Hacker Halted and the Global CISO Forum – reflecting the importance of this subject to all levels of professionals. The goal is to yield important insights into the conflicting ideas around the subject of privacy in a world of terror and cyber crime.
Hacker Halted, to be held September 14-16, brings together students and professionals from across the spectrum of cyber security - from system administrators to C-level executives - and includes several events and learning opportunities: Hacker Halted Academy, the InfoSec Tech & Exec Awards Gala, the Hacker Halted conference, the Global CISO Forum, and the finals of the Global CyberLympics.
Hacker Halted Academy is an opportunity to engage in some of the most sought after training toward various professional certifications. Classes range from Certified Ethical Hacker (C|EH), to Penetration Testing (ECSA), to Certified Information Security Officer (CCISO), and among many others. Hacker Halted Academy provides information security professionals the ability to become truly well rounded cyber professionals, arming them with the skills needed to take their career to the next level.
The Global CISO Forum, held in conjunction with Hacker Halted, is a chance for the executives of the information security industry to meet, share best practices, and debate hot topics. Chief Information Security Officers (CISOs) are responsible for the infrastructure of some of the largest companies and organizations across the world and the breadth of knowledge they are expected to master is immense. The Forum comprises a series of panel discussions peppered with keynote presentations to ensure the most important topics are discussed in-depth. Executives from around the world attend, including Mark Sutton, CISO of Bain Capital; Jamie Herman, CISO of Geller & Company; Igor Volovich, CEO of ROMAD Cyber Systems; and many more. The event is a closed-door, by invitation only event.
The Global CyberLympics, a worldwide hacking competition also organized by the EC-Council Foundation, will culminate with its World Finals the day prior to the Hacker Halted conference. Teams representing dozens of countries will compete against each other in one 12-hour, no holds barred preliminary round in order to earn the right to battle it out in the finals. The champions will be crowned after being challenged in digital forensics, web application exploitation, system exploitation, malware analysis and physical security. In addition to world domination, the world champions will be awarded cash prizes, trophies, and medals at the opening of the Hacker Halted conference.
To learn more about Hacker Halted or to register, please visit: http://www.hackerhalted.com
About Hacker Halted:
EC-Council's flagship information security conference, Hacker Halted, aims to raise awareness toward increased education and ethics in information security. This information security conference series covers in-depth topics into the development of security issues plaguing the world. Hacker Halted features many world-renowned subject matter experts and high-level speakers, as well as some of the best technology companies showcasing their products and services. Hacker Halted provides the most sought after technical training and certification classes offered through Hacker Halted Academy by top training companies and led by well-respected instructors. Hacker Halted has grown; from a single annual conference in Miami to a global conference series with events held in Malaysia, Dubai, Egypt, Singapore, Mexico, and Japan since its inception in 2009.
About EC-Council Foundation:
EC-Council Foundation is a charitable and educational organization dedicated to educating and training individuals in cyber security. Established in 2012 by EC-Council, the foundation seeks to raise awareness, build capacity across nations and ultimately unify global cyber defense. EC-Council Foundation is the creator and organizer of Global CyberLympics, Hacker Halted, TakeDownCon, The Global CISO Forum and Live.Learn.Secure. an education and training program. For more information regarding EC-Council Foundation or any of its programs visit foundation.eccouncil.org.