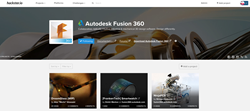 Helping our community members master 3D CAD is an exciting step forward for everyone
San Francisco, CA (PRWEB) December 18, 2014
With a soldering iron and a circuit board, Hardware hackers can turn a handful of parts into a clever, time saving smart device. But for everyday use, a smart device needs a functional case and for that, you need a whole different set of tools. So Hackster.io, the project sharing community for hackers, is teaming up with Autodesk to show just how easy 3D design can be.
Autodesk Fusion 360 is a powerful 3D CAD tool that hardware hackers can use to help turn their vision into a marketable product. The Fusion 360 hub on Hackster.io will include educational activities, design challenges and live collaboration.
"With the accessibility of 3D printers, it's even easier than ever for hackers to take their projects to the next level," said Hackster co-founder Adam Benzion. "Helping our community members master 3D CAD is an exciting step forward for everyone."
Learn more about Autodesk Fusion 360 and Hackster by visiting the new platform page on Hackster.io, download Autodesk Fusion 360 for free, and post your first projects on the site: http://www.hackster.io/autodesk.
About Hackster
Hackster is the fastest growing, online community for creating hardware. From beginners to the advanced, Hackster empowers people everywhere to learn, build and sell their creations without the traditional overhead of manufacturing, retail and venture capital. Founded by hardware and software entrepreneurs, Hackster's mission is to help makers succeed in their own right. http://www.hackster.io on Twitter @hacksterio
About Autodesk
Autodesk helps people imagine, design and create a better world. Everyone—from design professionals, engineers and architects to digital artists, students and hobbyists—uses Autodesk software to unlock their creativity and solve important challenges. For more information visit autodesk.com or follow @autodesk.
Contact: Adam Benzion, founders(at)hackster(dot)io