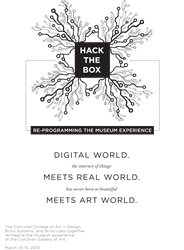 Our collaboration has brought new ideas and solutions to the market not only for our customers, but it will also expand technology as a whole within the design community.
Bethesda, MD (PRWEB) May 12, 2014
Brivo Systems and Brivo Labs, a business unit of Brivo Systems focused on social access management through the Internet of Things, in March 2014 joined the Corcoran Gallery of Art and College of Art + Design and [topcoder] community in an ongoing collaboration to enhance the museum experience. The cloud-based technology company explored ways to enhance and engage people to interact with physical spaces using innovations in both beacon and wearable technology. Combining the expertise of the distinguished Washington, DC cultural institution and from the crowdsourcing community drove ideas to real life implementable solutions leading to the Muse Award, a technology award presented by the American Alliance of Museums.
"We are excited and honored to receive this recognition for our collaboration with the Corcoran and [topcoder]; we truly enjoyed bringing together the technology and software development community along with the design community," said Lee Odess, Vice President of Marketing for Brivo Systems and General Manager of Brivo Labs. "Our collaboration has brought new ideas and solutions to the market not only for our customers, but it will also expand technology as a whole within the design community."
Hack the Box: Re-programming the Museum Experience took place March 10 - March 12, 2014, topped off with a 12 hour brainstorming event located at Brivo Systems' Bethesda headquarters. Corcoran students, together with Brivo Systems and [topcoder] team members developed prototypes and conclusions that present how traditional museum spaces may be designed to interact with a networked audience.
"The [topcoder] community is very proud to have participated in the ideation process and help expand the technology capabilities within the museum space," said Dave Messinger, chief community officer at Appirio. "This was a great opportunity to work together with like-minded innovators to take the team's creative concepts and rapidly develop new applications that improve the on-site experience."
The collaboration did not end there; outcomes from Hack the Box: Re-programming the Museum Experience were then presented April 25-27 in London during Chaos at the Museum, an international exhibition design summit.
"Introducing the international exhibition design community to the Hack the Box process and findings was both exciting and gratifying," noted Clare Brown, Chair and Assistant Professor of Exhibit Design, Corcoran College of Art & Design. "Because engaging audiences is a common goal for museums across the globe, Hack the Box was well received as an innovative way to deliver customizable content and experiences to museum visitors."
The Muse Awards will take place Sunday, May 18 from 6 p.m. to 8 p.m. at the Grand Hyatt Hotel in Seattle, Washington. For more information on Hack the Box, go to http://www.blog.brivo.com or watch the Hack the Box video highlighting the three day art + tech collaboration: https://www.youtube.com/watch?v=QemnhT-F7hs
###
About Brivo Systems:
Brivo Systems is a SaaS company and worldwide leader of cloud-based physical access control and video surveillance systems. When first introduced in 2002, Brivo's Security as a Service model was a disruptive solution, and after a decade of evolution and innovation, it still is.
Currently managing over 4 million users, Brivo provides unmatched scalability and centralized security management for global enterprises, while retaining the ease of use that makes it a favorite for small and medium business customers. The company's award-winning Brivo OnAirSM security management system is unique in providing combined access and video management in a single cloud platform.
The company recently launched Brivo Labs (http://www.brivolabs.com), an Internet-of-Things business unit focused on the emerging Social Access Management market. Brivo Labs creates products and web API services that use Social IDs to connect virtual communities with physical spaces.
Headquartered in Bethesda, MD, Brivo was founded in 1999 and is a wholly owned subsidiary of The Duchossois Group.
About The Corcoran:
Established in 1869, the Corcoran Gallery of Art was one of America's first museums of art—dedicated, in the words of founder William Wilson Corcoran, to "encouraging American genius." Today it is Washington, D.C.'s largest nonfederal art museum, known internationally for its distinguished collection of historical and modern American art, European art, contemporary art, photography and media art, and decorative art. A dynamic schedule of special exhibitions complements a range of educational programming, which together enrich the perspectives of the visiting public, support the local arts community, and encourage thoughtful interpretation of today's most compelling social issues. The Corcoran College of Art + Design was founded as a school of art in 1878 and stands as Washington's only four-year accredited college of art and design. The College is one of the few in the nation whose educational model includes an integral relationship with a museum, fostering the talent of the next generation of artists. For more information about the Corcoran Gallery of Art and College of Art + Design, visit http://www.corcoran.org.
About [topcoder]:
The [topcoder] community gathers the world's experts in design, development and data science to work on interesting and challenging problems for fun and reward. The community helps members improve their skills, demonstrate and gain reward for their expertise, and provide the industry with objective insight on new and emerging technologies.
Juliann Tuleya
Brivo Systems
301.664.5268
Tara de Nicolas
Georgetown Consulting Group
540-220-8272
Rachel Cothran
Corcoran Gallery of Art and College of Art + Design
202-639-1833