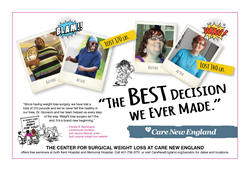 "Since having weight loss surgery, we have lost a total of 310 pounds and we've never felt this healthy in our lives." - Frankie B. Washington
Boston, Massachusetts (PRWEB) June 21, 2016
Haggman Advertising today launched a new advertising campaign called "Real People – The Frankie and Jess Story" for its client The Center for Surgical Weight Loss at Care New England in Rhode Island. The campaign debuts with creative featuring the compelling story of a real Rhode Island couple who both underwent surgical weight loss surgery and lost a total of 310 pounds.
"These are not actors - they are real people – an illustrator and a writer, who tell their story in their own words," said Eric Haggman agency creative director and CEO. "Both Frankie and Jess struggled with weight their whole lives so they know first hand how challenging it can be to lose weight," adds Haggman. "Surgical weight loss was an invaluable tool to help them lose the weight and live better, healthier lives. By sharing their story they hope to reach other people facing similar issues."
The multi media campaign includes advertising on major television and cable stations in the Providence, Rhode Island market including NBC, ABC, Fox, CBS, Bravo, CNN, HGTV and more. The campaign is also supported with radio, print, digital and outdoor advertising.
As part of the campaign, Care New England has created a dedicated web landing page to provide more information about Frankie and Jess's journey and also offer information on upcoming free weight loss surgery seminars which are held at Care New England hospitals Kent in Warwick, RI and Memorial in Pawtucket, RI. The seminars are free and an invaluable first step in deciding if surgical weight loss surgery is the right treatment option.
The advertising campaign was created by Haggman with Eric Haggman as creative director and senior copywriter along with Julia Leonard as copywriter, Ann Messenger as senior art director, and television production by RedTree Production in Boston, MA with Martin Albert as first camera director and Steve Polakiewicz as editor. The campaign was developed for the agency's client Care New England Health System of Rhode Island with Jim Beardsworth, Kent Hospital's Director, Marketing and Public Relations.
Haggman Advertising Design and Public Relations was founded in 1991 celebrating its 25th anniversary. Haggman is a full-service strategic, creative, design and public relations company with clients in energy, healthcare, food, hospitality and other sectors.
###