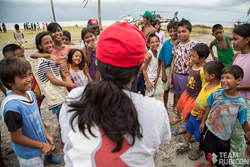 Los Angeles, CA (PRWEB) December 04, 2014
Team Rubicon, a veteran-led disaster relief organization, has launched Operation: Whipcrack ahead of Super Typhoon Hagupit, a potentially catastrophic storm, which is forecast to make landfall in the Philippines this weekend.
Team Rubicon has assembled a 4-person reconnaissance team that will depart Friday for Manila. They will survey damaged areas and work with partner organizations to determine the greatest areas of need, and if a larger, follow-on response from Team Rubicon will be warranted.
Team Rubicon is no stranger to the Philippines, having been one of the first non-governmental organizations to respond to Typhoon Haiyan, just over a year ago. Team Rubicon deployed over 100 volunteers in response to that cyclone, focusing on the hard-hit city of Tacloban and surrounding towns, and treated over 2,100 patients with immediate medical care.
Two of the team's members, Marine veteran Amanda Burke, from Los Angeles, and Air Force veteran Lourdes Tiglao, a Filipino-American from Falls Church, Va., responded to Haiyan. They will be joined by Navy veteran Michael Davidson, from Honolulu, and Army veteran Peter Biggane, from Boston.
Team Rubicon unites the skills and experiences of military veterans with first responders to rapidly deploy emergency response teams. Beyond disaster relief, Team Rubicon helps veterans find a renewed sense of purpose—vital as many return to civilian life after more than a decade of war.
The nonprofit was founded in the wake of the 2010 Haiti Earthquake by Jake Wood and William McNulty, both Marine veterans. It has grown from eight to 20,000 members with nearly 80 operations under its belt, including Haiti, Superstorm Sandy, and more than two-dozen disasters across the United States this year alone.
Flights are being generously provided by Airlink, a humanitarian program that connects charity organizations with airlines who can offer free or discounted passenger and cargo space.
To learn more about Team Rubicon's mission, or to become a supporter, visit http://www.teamrubiconusa.org.
About Team Rubicon: Team Rubicon (TR) unites the skills and experience of military veterans with first responders to rapidly deploy emergency response teams. TR offers veterans a chance to continue their service by helping and empowering those afflicted by disasters, and also themselves. For more about Team Rubicon, visit http://www.teamrubiconusa.org.
Media Contact:
Mike Lee
Communications and Fundraising Coordinator
Team Rubicon
O: 310.640.8787 ext. 106
C: 847.899.2236
lee(at)teamrubiconusa(dot)org