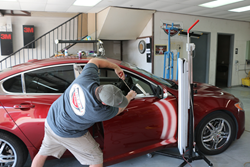 We are gearing up and making all necessary accommodations to service customers in the North Texas area needing paintless dent repair for hail damage
(PRWEB) March 25, 2016
The team at Linear Automotive is proud to announce that additional space has been secured in order to accept larger amounts of customers needing paintless dent repair in Plano and the surrounding areas. The owner of Linear Automotive, Joel Ozbun, quoted "We are gearing up and making all necessary accommodations to service customers in the North Texas area needing paintless dent repair for hail damage".
Linear Automotive provides hail damage repair for BMW, Mercedes, Lexus, Infiniti, Audi, Acura, Volkswagen, Jaguar, Mini, Porsche, Honda, Toyota, Nissan, and more. Watch this video showing the experts at Linear Automotive as paintless dent repair is performed on a variety of vehicles - https://www.youtube.com/watch?v=Iyy3OM0Yjao
Hail storms can cause massive damage to a car. The certified technicians at Linear Automotive use paintless dent repair to remove dents and dings. Paintless dent removal is the procedure in which hail damage repairs are performed without the use of sanding, bondo, or paint. Linear Automotive offers affordable prices done by expert technicians backed by a written lifetime warranty.
The shop works with all insurance companies, helps file claims, and even helps set up rental cars for customers with hail damage. Hail damage on cars is covered by some insurance policies, if help is needed to read between the lines stop by today. Five star customer service is what keeps customers coming back to Linear Automotive. For more info visit https://linearautomotive.com/hail-damage-repair/