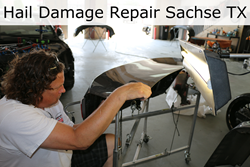 Linear Automotive provides the best hail damage repair and paintless dent removal in Garland, Sachse, Mesquite, Forney, and Carrollton Texas.
Sachse, TX (PRWEB) October 06, 2014
Linear Automotive is gearing up to help customers needing hail damage repair & removal, and paintless dent repair in Sachse, Mesquite, Garland, and Forney Texas due to a storm that blew through in the early morning hours. There were many lighting strikes generated by this storm and damage has also happened causing some people to lose power. For more information call 972-633-2201 or visit the website.
The shop has cleared out the hail damage repair areas and prepared to take in damaged cars. The office staff helps customers file claims and set up rental cars when needed. Any customer coming by the shop will be pleasantly surprised with the level of professionalism and readiness for the task at hand, which is helping folks needing repairs.
The certified body shop is run by ASE certified and I-Car certified experts who take great pride in providing the best paintless dent removal in the North Dallas Area. Anyone needing hail damage repair in Forney, Mesquite, Sachse, Carrollton, or Garland will get the best care at affordable prices.
The service center works with all insurance companies and the staff goes the extra mile helping customers get quality service. Paintless dent removal is the process of removing dents and dings without the use of sanding, bondo, or paint. Sometimes dents can be too large to " pop out " requiring body work and paint. In some cases and insurance company will recommend replacing the hood when there are too many dents or when the damage is too severe.
No matter the situation Linear Automotive will have all the answers and be able to provide the best hail damage removal and paintless dent repair in Mesquite, Carrollton, Sachse, Garland, and Forney Texas. For more information call 972-633-2201 or visit the website.