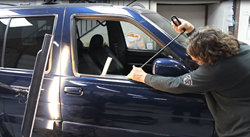 Linear Automotive made special preparations around the shop help people in the McKinney area that were affected by the recent hailstorm.
McKinney, TX (PRWEB) March 31, 2014
A recent hailstorm in McKinney, Texas has damaged vehicles requiring the immediate need for hail damage repair and paintless dent removal. Linear Automotive specializes in PDR and has prepared the shop for the arrival of damaged vehicles that were damaged around the McKinney area.
Linear Automotive is a paintless dent repair company that works with all insurance companies, helps file claims, and even aids in setting up rental cars for all customers bringing in hail damaged cars for paintless dent repair & removal. PDR otherwise known as paintless dent repair is the method in which dents and dings are removed with special tools instead of sanding, using bondo, and painting. Find out more at LinearAutomotive.com
Hail damage repair is a fine art in which special instruments are used by a trained and experienced professional in order to remove dents and dings caused by hail. Hail is pellets of frozen rain coming down from cumulonimbus clouds in the sky - usually in the spring time. These irregular lumps of ice are referred to as hailstones and cause quite a large amount of property damage including on automobiles. Car hail damage is covered under some car insurance policies.
Many insurance companies send out an adjuster who will provide a specified amount of money to the car owner for hail damage so they can get it repaired at the body shop. What many people do not know is that many times these estimates can be way short. Once a qualified shop performs their own analysis more money can be retrieved from the insurance company in what is known as a supplement.
Replacing a windshield due to hail is an option at Linear Automotive. While the car body can have the hail damage repaired and removed, automotive glass is a different story. Chips and smalls cracks in auto glass and windshields can usually be repaired. Larger cracks usually means the windshield needs to be replaced. Many insurance policies will cover this.
Anyone needing hail damage repair in McKinney, Texas will be pleased with the level of service and professionalism at Linear Automotive. Door dings can be removed to make things look like new again while keeping the original finish.
Minor body creases and small bumper indentations can be removed in most cases with PDR. Paintless dent removal is an insurance industry accepted repair process that will remove hail damage, dents, and dings permanently without using bondo and paint which is why so many people prefer it. By avoiding body fillers and replacement panels the vehicle maintains its original paint and value.
Hail damage repair is performed with specialized tools that actually massage out the dents thereby restoring the original condition. The shop specializes in handling insurance company hail damage claims with attention to detail and amazing customer service. For the best hail damage repair in McKinney, Fairview, Melissa, Princeton, Leonard, and Celeste, TX visit LinearAutomotive.com.