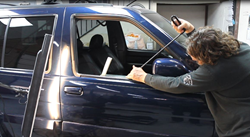 Linear Automotive has the best paintless dent repair services for cars needing hail damage repair.
Plano, TX (PRWEB) August 13, 2014
Linear Automotive has been receiving multiple requests for hail damage repair and paintless dent repair for BMW, Mercedes, Infiniti, Lexus, Audi, Acura, Porsche, Acura, Volkswagen, Nissan, Honda, & Toyota models in Plano, Allen, McKinney, Frisco, Wylie, Sachse, Parker, Lucas, Murphy, Garland, Rowlett, Richardson, Addison, Prosper, Rockwall, Carrollton, Denton, and The Colony, Texas. For more information about hail damage repair or paintless dent repair, call 972-633-2201 or visit the website at LinearAutomotive.com.
To deal with the increased demand, additional room has been allotted inside the shop, and hours have been increased to handle the additional workload. Car owners can expect to get their vehicles repaired quickly and accurately at an affordable price.
The shop has received calls from car owners who are frustrated over long wait times at other facilities. This is why so many people are happy to hear the news that Linear Automotive has reconfigured the hail damage repair areas and extended hours for paintless dent repair specialists to meet this increased demand.
To explain this further, when hail damage happens to a vehicle, the owners usually take much longer before going to a shop for repairs because in most instances the damages are only cosmetic. This creates a delay in repair times and when repair shops begin filling up to handle the work.
Some dealerships and body shops do not have dedicated hail damage repair specialists which means wait times can be extremely long. Linear Automotive has in house paintless dent removal specialists with years of experience which sets this body shop apart from most others. This is a pleasant surprise to most people who call in and just the good news that many folks are looking for now that it is time to have those repairs done that have been put off.
Linear Automotive works with all insurance companies and even helps customers file claims and set up rental cars. Services also include windshield replacement, rear glass and window replacement and repair. All hail damage repairs and paintless dent repair is performed by highly experienced in-house professionals that have been handling this specialized process for years.
The hail damage repair experts at this shop have an extensive arsenal of tools at the ready to handle any make or model, both foreign and domestic. Be sure to ask about special paint, graphics, or artwork while the car is being repaired. The award-winning airbrush artists can put a person's name on the door, add some classy pinstriping, or do some exotic airbrush work to spice things up.
Visit the motorcycle paint section of the website to get an idea of how amazing the award-winning work can be. The artists at Linear Automotive have produced custom jobs featured on magazine covers and have won awards and car & motorcycle shows with amazing creations.
For more information about hail damage repair or paintless dent repair, call 972-633-2201 or visit the website at LinearAutomotive.com.