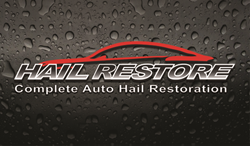 "Free cell phone estimates you may ask? That's right, we've made it so simple, all you have to do is take a picture of your issue and text it to us and we can text you back with a quote. It doesn't get any easier than that
Oklahoma City, OK (PRWEB) May 06, 2015
Hail Restore, a locally owned and operated Smart Repair Center in Oklahoma City, Oklahoma has recently released a new marketing effort to help Oklahoman's affected by recent hail storms.
Their message has been released heavily on Facebook as well as media outlets like KFOR News Channel 4 out of Oklahoma City.
Their message boasts a $500 hail damage coupon as well as a free loaner car, vehicle water damage prevention, no cost pick-up and delivery service and lifetime warranty work. When asked about the motivation behind this effort, owner James McElhany had this to say, "I've been here since 2007 and see this happen every year. Oklahoma gets pounded by storms and then a lot of companies rush in and set up shop wherever they can and start running people through the process as fast as they can. That's not the way business should be done and that's not the way we do business. So I wanted to be bold and try to make it as convenient as possible for people."
For some time now, Hail Restore has been offering convenient services like free pick up and drop off or complimentary cell phone estimates. "Free cell phone estimates you may ask? That's right, we've made it so simple, all you have to do is take a picture of your issue and text it to us and we can text you back with a quote. It doesn't get any easier than that," McElhany explained. "However, it should be noted that in some cases the damage is too hard to see from a cell phone picture and one of our experts on staff will have to see the vehicle in person."
Hail Restore also offers mobile windshield repair. "We're trying to grow and evolve and do as much as we can to make this process easy for our customer. We know its a pain to have to drop a car off somewhere and be without a vehicle while yours is in the shop, so we do everything we can to make this process easier. We want to be market leaders in this part of our industry," says McElhany.
The company definitely built a tall order to fill, but with their history and credentials it seems they'll be able to weather any storm. To learn more, visit: http://www.hail-restore.com
About Hail Restore:
Hail Restore is a locally owned and operated Smart Repair Center in Oklahoma City, OK. With an A-Rating by the Better Business Bureau, Hail Restore specializes in auto hail damage repair and paintless dent removal.