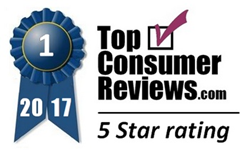 Beauty Store Depot has more than 20 years of experience in the beauty supply market, and they put that knowledge to good use when it comes to Hair Care.
Overland Park, KS (PRWEB) September 28, 2017
TopConsumerReviews.com recently gave a best-in-class 5-star rating to Beauty Store Depot, a leader among sellers of products for Hair Care.
What does it take to have healthy, beautiful hair? The answers to that question vary widely depending on numerous factors: straight or curly? Men's or women's? Cultural or ethnic needs? No matter what those answers may be, everyone feels more confident when they know that their hair looks and feels the way they want it. Finding the right products to make that happen can be a challenge. Traditional big-box retailers may not carry the exact product needed to tame frizzy hair or to protect color-treated tresses, and local salons typically have a small-and-expensive product line available to their customers. Shopping for hair care products online puts the best shampoos, conditioners, and other treatments within easy reach, and many online retailers have additional perks that make it even more affordable to have healthy hair.
"Beauty Store Depot has more than 20 years of experience in the beauty supply market, and they put that knowledge to good use when it comes to Hair Care," stated Brian Dolezal of TopConsumerReviews.com, LLC. "Their easy-to-use website helps customers find just the right shampoo, conditioner, styling products and deep treatments. And, a helpful "Beauty 101" section gives shoppers plenty of helpful information to a variety of conditions, such as dry or oily hair. Beauty Store Depot also has an excellent 60-day, hassle-free return policy, along with free shipping on all orders. With an A+ rating at the Better Business Bureau and ample compliments from satisfied customers, Beauty Store Depot is the clear winner among retailers of Hair Care products, making it our top choice in 2017."
To find out more about Beauty Store Depot and other sellers of Hair Care products, including reviews and comparison rankings, please visit the Hair Care products category of TopConsumerReviews.com at http://www.topconsumerreviews.com/hair-care/.
About Beauty Store Depot
Beauty Store Depot was founded in 2005, with over 20 years experience in the beauty retail market and the intention of offering beauty gurus a place where they can find expert advice on the products they love most while getting the best price online. With education, product knowledge, and personalized customer service as the top of the list of their ideals, Beauty Store Depot has positioned itself as a worldwide leader in online beauty retailers.
About TopConsumerReviews.com
TopConsumerReviews.com, LLC is a leading provider of independent reviews and rankings of hundreds of consumer products and services. From Hair Care to Makeup and Anti Aging Creams, TopConsumerReviews.com delivers in-depth product evaluations in order to make purchasing decisions easier.