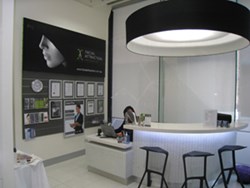 If clients act now, they'll be completely confident by the time summer is in full swing.
Melbourne, Victoria (PRWEB) September 30, 2013
Facial Attraction has experienced an increase in demand for their super intense pulsed light (SIPL) hair removal treatments as the result of their latest spring promotion. The professional team of skin experts decided to extend the offer for a very limited time, which discounts up to 40% off the regular price of specific hair removal treatments. Manager and Senior Skin & Laser Clinician Ms. Melissa Brunning says, "Now is the perfect time for both men and women to start their course in hair removal treatments; so by the time summer is in full swing, they'll be confident to hit the beaches."
Around this time each year, avid sun lovers begin their beauty preparations, such as skin treatments and hair removal, to confidently don their beach attire as the warmer weather sets in. But with the hotter days fast approaching, many are finding time is running out to begin the groundwork for achieving smooth, clear skin.
Luckily the forerunner of skin and laser technology Facial Attraction has extended their renowned spring SIPL hair removal promotion to accommodate clients looking to get perfect skin for their upcoming treks to the seaside. Their modern and professional clinics located all around Melbourne are giving deeply discounted pricing for certain hair removal treatments, but only for a limited time.
"A lot of people forget that effective and lasting hair removal takes some time and preparation," says Ms. Brunning, "a course of treatments must be undergone to ensure the best results. Good news though, our SIPL machine is stronger than just the standard IPL ones used elsewhere, so the final outcome is fantastic."
The skin company's expert clinician clarifies that because everyone's skin and circumstances are different, now is the time to begin SIPL hair removal treatments. She says: "the number of treatments can vary depending on skin type and skin colouring, as well as hair thickness and density."
Ms. Brunning then says that the amazing results attained from their hair removal program is what caused demand to increase and Facial Attraction to extend the special. "The discount is for the women's bikini and underarm hair removal. It's only $99 right now which is 40% off the regular price."
She then continues to say that men haven't been left out of the special, "Guys can have a smooth chest, abdomen and shoulders for only $299. That's a massive $176 off normal price." Furthermore, the clinic's team are specially trained to handle all skin types, including those who are more tanned and have darker colouring. "We are the absolute experts in skin which means we can achieve the best results for all our clientele."
Ms. Brunning says the extended promotion has been highly popular at all their locations around Melbourne, "So it's really important to book an appointment right now for two reasons. The first, because the discount has only been extended for a limited time, so it's going to end very soon."
"The second reason to book today" adds Ms. Brunning, "is to allow enough time to achieve the desired results for beautiful hairless skin." What's more, the clinician says it's also time for people to look at rectifying other skin troubles such as "acne or perhaps dry, lifeless skin from the harsh winter. If clients act now, they'll be completely confident by the time summer is in full swing."
Because the team at Facial Attraction know their clients need to commence their super intense pulsed light (SIPL) hair removal treatments now to achieve the best results, they're extending their spring promotion for a limited time. Offering up to 40% off specific men's and women's treatments, the clinic urges clients to book today before the promotion ends. With multiple locations around metro Melbourne, it's easy to organize a free 30-minute skin consult with a specialist by calling 1300 735 234 or visiting http://www.facialattraction.com.au
About Facial Attraction
Facial Attraction is a professional skin and laser clinic with 9 locations around metro-Melbourne. The leading clinicians are focused on results, integrity and affordability, which naturally lead to high client satisfaction and exceptional results. Their renowned reputation has positioned them as leaders in the aesthetic industry.
Comprised of fully qualified and accredited Laser clinicians, nurses, and dermal clinicians, all their initial consultations are honest, realistic and complimentary. Make sure to contact a Facial Attraction clinic to find out more about any of their safe, effective, affordable and non-surgical treatments today.