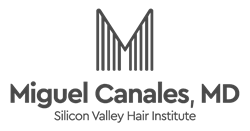 We often quip that San Jose residents need to discover Foster City's hair transplantation 'secret.'
San Jose, CA (PRWEB) January 30, 2017
Silicon Valley Hair Institute, a top Bay Area clinic for hair transplantation at http://siliconvalleyhairinstitute.com/, has updated its information page tailored to San Jose residents. Residents searching for a consult due to thinning hair can easily drive from San Jose (the Bay Area's largest city) to Foster City.
"We often quip that San Jose residents need to discover Foster City's hair transplantation 'secret,'" explained Miguel Canales, MD, surgeon and founder of Silicon Valley Hair Institute. "Despite San Jose's larger size, many hair clinics in that metropolis don't offer the same scope of care for hair restoration, both for men and for women, that we do. That's why we've updated our informational page to map out the easy drive to Foster City."
To view the update San Jose information page on hair transplant options, please go to http://siliconvalleyhairinstitute.com/san-jose-hair-transplant/.
Information for hair loss treatments such as Platelet Rich Plasma (PRP) or FUE/FUT technology can also be reviewed. To learn more about PRP as a hair restoration therapy, visit http://siliconvalleyhairinstitute.com/prp/
San Jose Residents Can Set GPS to the Best in Hair Transplant Treatments in the Bay Area
Freeways, roads and overpasses are a layered puzzle Bay Area locals may have to drive each day. The idea of making several stops to complete one important task can be discouraging. Doctor's appointments alone can take up most of the day if a San Jose resident has to visit several clinics to treat one issue. If a local has an appointment to treat hair loss, driving for a consult at one place then driving to another place for treatment can waste time. One center may have technology for Platelet Rich Plasma treatments, but refer the patient to another location for Follicular Unit Extraction (FUE). Busy Bay Area patients may appreciate one quick trip to an expert hair transplant center able to manage all treatments at one stop.
Many residents mistakenly believe that the Bay Area's largest city, San Jose, will have the best hair transplant options. However, this isn't necessarily the case. Accordingly, the Silicon Valley Hair Institute has recently updated the San Jose informational page mapping out a simple route to the Foster City location. The Institute in Foster City encompasses a full package of diagnosis and hair treatment options. Hair transplant services such as Follicular Unit Extraction (FUE) and Follicular Unit Transplantation (FUT) can be found along with Platelet Rich Plasma (PRP) Treatments for Bay Area patients, who come from San Francisco in the North to San Jose in the South. Men and women suffering from hair loss do not have to travel through various routes for treatment. San Jose Locals can set a GPS for one simple stop to the best hair transplant services in the Bay Area.
About Silicon Valley Hair Institute
Silicon Valley Hair Institute (http://siliconvalleyhairinstitute.com/), under the leadership of top-rated California hair transplant surgeon Miguel Canales MD, is one of the best facilities offering San Francisco Bay Area hair restoration. Dr. Canales provides the full range of advanced hair transplant and hair restoration procedures for Bay Area residents, from San Francisco to Palo Alto to San Jose. If one needs a hair transplant specialist, look no further than this Bay Area hair transplant center. Dr. Canales also performs female hair transplants for women and eyebrow restoration, thus offering the best hair transplant and robotic hair replacement options. Call today to 650-551-1100 for a no-cost consultation.