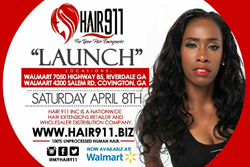 "YES EVERYONE" You can now buy 100% unprocessed human hair extensions in Walmart and Walmart.com.
Atlanta, GA (PRWEB) March 23, 2017
A powerful partnership happened this year between Hair 911, Inc. and the powerhouse Walmart. Hair 911, Inc. is a recognized name when it comes to quality luxury hair extensions and with its new partnership it is able to bring more of its products to more customers. Walmart will now start on selling Hair 911 luxury hair extensions in their stores.
True to their slogan, "For Your Hair Emergencies," Hair 911 continues to bring the most amazing products for hair care. This time they bring their products closer to Walmart customers with their 100% unprocessed human hair extensions now available in their stores. Customers can now easily get the best hair extension and take advantage of its benefits.
Hair 911 understands how volume is the 'in' thing for women, especially those with fine, flat hair. To women with these issues, human hair extensions are the safest and easiest solution. But the problem is that out in the market, there are many who sell hair extensions that are not at all high quality. Often they are synthetic and not very effective in adding volume to hair.
This predicament led Hair 911 to make an effort to bring their products closer to consumers. More so, Hair 911's human hair extensions and other products are not only available in local Walmart stores but also in their website. Hair 911 products are also available at Amazon and Groupon. The official launch for Hair 911 products in Georgia is on April 8th at the Walmart stores located at 7050 Highway 85 Riverdale, GA 30274 and 4200 Salem Rd Covington, GA 30016. On Saturday, April 22, 2017 Hair 911 will also launch at the Aurora, IL Walmart (2900 Kirk Rd Aurora, IL 60502).
Hair 911 products come in different colors and styles which give customers the ability to customize their look anytime. The extensions are available as well in different lengths so they can instantly get the longer hair that customers wanted. These are also ideal products for a quick styling fix that is easy to maintain and style. With Hair 911 products now easily available to the public, customers will not have to deal with bad hair days anymore.
Hair 911 was established a few years ago, a local hair extensions company in Atlanta, Georgia that has managed to become a successful retail, wholesale and distribution business. The company is known throughout the country for providing superior quality, 100% unprocessed human hair extensions. With that, users of their products are sure to take advantage of vibrant, luminous and healthy-looking hair.