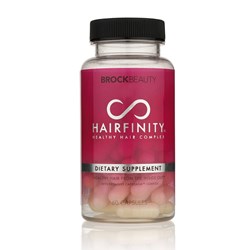 Bottom line, beautiful hair begins with basic hair health ... and trusted healthy hair care solutions.
New Orleans, LA (PRWEB) August 22, 2013
Any respected hair designer will tell you that before hair 'style' comes hair 'health' to achieve the right foundation for fabulous hair. It's a lot like applying make-up to healthy skin … the more beautiful your natural complexion, the more 'you' will come shining through!
So true for the 2013-14 fashion seasons, where hair is notably longer, thicker and more lustrous to the look and feel. One look at the runways and red carpets and you'll catch those extra-long, no-part ponytails (sleek or loose) … or those edgy longer bobs with full-on or swept bangs. And, oh yes, the 2013 trend darling 'side sweep' styles will continue in 2014 as the long hair signature style -- but with fresh added twists of French braids worn taut on one side (petite plaits).
For many women who love wearing their hair longer and fuller but have challenges growing it, HAIRFINITY offers an innovation in hair care that has turned around the category of hair fashion 'fitness' … and changed the lives of hundreds of thousands women of all ages and hair types. Bottom line, beautiful hair begins with basic hair health … and trusted healthy hair care solutions.
HAIRFINITY Healthy Hair Complex from Brock Beauty, Inc. gives long 'see through' hair a helping hand by making it healthy from the inside out. These unique vitamins are a natural dietary supplement, formulated with specific nutrients to nourish hair and scalp -- and promote faster growing, longer, thicker, stronger and more vibrant hair in as little as 30 days.
HAIRFINITY helps to 'fill in the gaps' left by your regular diet to provide your body with the nutrition it needs to grow healthy hair -- and look its head-turning healthiest. An exclusive Capilsana™ complex delivers a unique blend of hydrolyzed collagen, MSM (methylsulfonylmethane) and silica that provides 18 Amino Acids, the building blocks of the protein that gives hair its strength. This exclusive complex also helps maintain the hair's elasticity and provides sulfur required for healthy collagen and keratin, essential for healthy hair growth.
The HAIRFINITY brand supports many non-profit organizations and events to help create breast cancer awareness and prevention. The brand is consistently affiliated with celebrities and celebrity hair stylists (representing the fashion, film, entertainment and recording industries, most recently with Toya Wright, Somaya Reece and Scheana Marie. HAIRFINITY is about to announce a major celebrity partnering affiliation for 2014 and recently sponsored the 2013 BET Awards 'Backstage Celebration' gifting lounge, encouraging celebrities to help raise money for Ann's Helping Hands, a non-profit that serves cancer patients.
HAIRFINITY Healthy Hair Complex is available for purchase in salons, beauty supply retailers and online at their website.
About Brock Beauty, Inc.
Brock Beauty, headquartered in Slidell, LA, is an innovative natural hair care and skin care company, committed to delivering lasting results and affordable, healthy solutions to enhancing and preserving your natural beauty. The company's HAIRFINITY brand is the haircare category leader in the growing 'natural hair nutrition' market niche at the consumer/salon client level. HAIRFINITY is distributed by Brock Beauty, Inc., 840 Oak Harbor Blvd., Slidell, LA 70458. Phone toll-free: 888-387-4151.