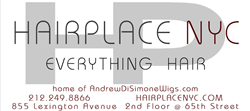 "At HairPlaceNYC, we strive to improve the lives, self-esteem and overall appearances of our clients through innovative hair replacement solutions including our new line of eyebrow replacement wigs," said Andrew DiSimone, owner of HairPlaceNYC.
New York, NY (PRWEB) October 02, 2013
HairPlaceNYC, a leading New York City salon specializing in hair care and hair replacement solutions, today introduced a new line of non-surgical, human hair eyebrow replacement wig products. The brainchild of Andrew DiSimone, owner and hair stylist at HairPlaceNYC, this line of replacement eyebrow wigs was designed specifically for those with thinning eyebrows due to chemotherapy side effects, overplucking, scars, Alopecia, stress, genetic causes or natural hair loss associated with aging. This innovative product line was announced on the heels of National Breast Cancer Awareness Month which, taking place throughout October, has been at the forefront of promoting awareness of breast cancer issues and has evolved along with the national dialogue on breast cancer.
Eyebrows are a key facial feature and very important for symmetry. Every person, especially women, has a desire to enhance their eyebrows and have them appear more shapely, well-formed and fuller. HairPlaceNYC offers a full range beautiful replacement eyebrows without the need for expensive, time-consuming transplant surgery. They're also an excellent alternative to permanent makeup, risky and expensive tattoos and time-consuming stenciling.
Eyebrow "wigs" offered by HairPlaceNYC are skillfully injected with 100 percent human hair onto a unique and flexible derma lens. The individual hairs are then carefully placed to simulate the growth pattern of real eyebrows. HairPlaceNYC eyebrows also bond in seconds with a special adhesive, which are easy to apply, sturdy, and both removable and reusable. HairPlaceNYC offer a variety of shapes and thickness to complement your face. The eyebrows come in three eyebrow arches and four colors (level 2, 4, 6 or 8).
"Our life-like replacement eyebrow wigs are the closest thing to natural brows ever developed," exclaimed Andrew DiSimone. "Clients can wear our replacement eyebrow wigs for five days at a time without cleaning and, unlike other eyebrow solutions, our line of eyebrows are made with 100 percent human hair and skillfully placed for a natural-looking appearance. Additionally, they can be safely bonded right over clients' existing eyebrows, and they flex with facial expressions. At HairPlaceNYC, we strive to improve the lives, self-esteem and overall appearances of our clients through innovative hair replacement solutions including our new line of eyebrow replacement wigs."
Recently named by New York Magazine as a leading medical hair loss specialist, HairPlaceNYC is located on the upper east side of Manhattan and has offered a range of services such as cutting, coloring and hair styling for more than two decades. HairPlaceNYC is the first salon in New York City to offer both hair care and hair replacement solutions - all in one place.
With more than 25 years in the business, DiSimone has volunteered weekly for the last four years at the American Cancer Society's NYC Hope Lodge to cut and style wigs for the Free Wigs Program. Through HairPlaceNYC, DiSimone also manages similar programs such as FreeWigsForKids.org and HairyGodmothers.com where you can sponsor a child wig and keep in touch with that child through their recovery and http://www.donatewig.com where Andrew connects donors of wigs to the recipients in need of a wig who are less fortunate. For more information on HairPlaceNYC and Andrew's exclusive line of wigs and eyebrow replacement wigs, please visit HairPlaceNYC.com and AndrewDiSimoneWigs.com.
About HairPlaceNYC
HairPlaceNYC has been cutting, coloring, and styling hair in New York City for more than two decades. HairPlaceNYC offers everything from cut to color, Brazilian, Japanese, and cashmere hair straightening, perms, hair extensions, laser hair therapy, and is the home of Andrew DiSimone Wigs. The salon's exclusive line of hair replacement systems leverage 100 percent graft technology for a natural and comfortable fit. Each system is painstakingly handmade -- one hair at time. With 10,000 systems in stock and ready to wear in 24 hours, customers can start looking and feeling like themselves again in no time. For special occasions, wedding parties, or just a quick touch-up, please schedule a hair appointment today by calling 212-249-8866 or visiting us on the Web at http://www.HairPlaceNYC.com.