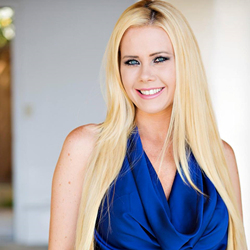 We are so excited to receive top honors for OC's Hottest Wedding Hair, Best Hair Color and Best Hair Salon, it's rare that a salon gets all three at once, so this is a dream come true and I am so proud of all our stylists
Mission Viejo, California (PRWEB) March 05, 2015
The Right Hair Salon received the 2014 OC Hot List Award for Best Wedding Hair and placed in the top 5 for Best Hair Color and Best Hair Salon, a triple threat. Owner Brandee Pacillio and her highly trained stylists take pride in what they do and it shows through client praise and accolades from the community.
"We are so excited to receive top honors for OC's Hottest Wedding Hair, Best Hair Color and Best Hair Salon, it's rare that a salon gets all three at once, so this is a dream come true and I am so proud of all our stylists – they take pride in their work and it shows", says Owner Brandee Pacillio"
Since 1998, Pacillio has received several certificates in master hair coloring, cutting and styling and is a Master Trainer Stylist. Pacillio is also certified in hair extension techniques from some of the top hair vendors in the country such as Hot Heads, Great Lengths, Dream Catchers and Easy Hair. Pacillio has contributed several articles published in Knott Bridal Magazine, Celebrity Hair Magazine 101, Hair & Style Magazine and Wedding Salon Magazine.
The Right Hair Salon has two locations; 1501 Corporate Drive, Suite B in Ladera Ranch, CA and announcing their new location in Mission Viejo, CA located at 23691 Via Linda in the Park Pointe shopping center. Both salons exude an air of relaxation and tranquility. The front lounge areas of both salons offer a beverage bar with complimentary drinks and the salons carry high-quality hair care products to include, Bumble & Bumble, ColorProf, Morocan Oil, Colour and more.
The Right Hair Salon currently has seventeen hair stylists (many speak multiple languages; Farsi, Spanish and Portuguese) and five professional make-up artists. To maintain Pacillio's skills and those of the staff, she created an extensive Assistant Training Program that requires the stylist to work side-by-side with Pacillio for one year, learning all the necessary techniques to become a talented successful stylist. Once their training is complete the stylist is offered a chair of their own.
"Assisting for Brandee for a year before going out on my own at The Right Hair Salon taught me more than just the techniques and skills of working with hair but also how to run a business," says stylist, Michele Neja.
While extensions are a big part of The Right Hair Salon's business, bridal packages have grown in popularity over the years and The Right Hair Salon rises to the occasion by being reliable, efficient, respected and affordable. The Right Hair Salon and its staff are referred by some of the most well known hotels and resorts in the area: The Ritz Carlton in Laguna Beach, The St. Regis in Laguna Niguel, Laguna Cliffs Marriott Resort & Spa in Dana Point and The Coto de Caza Golf & Racquet Club.
For more information about The Right Hair Salon please visit their website at http://www.therighthairsalon.com or contact them at 949-365-1012 or email therighthair(at)gmail(dot_com.
Stay connected to The Right Hair Salon on Twitter @TheRightHair and Instagram @TheRightHair. Facebook fan page - The Right Hair Salon.
For media inquiries contact Lisa Hart at SoCal TV & PR at lisa(at)socaltvandpr.com and 949-697-1606.
Lisa Hart, Publicist
SoCal TV & PR - Publicist
949-697-1606
lisa(at)socaltvandpr(dot)com
www(at)socaltvanpr(dot)com
@SoCalTVPR