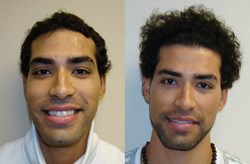 The MAXHARVEST™ Plus creates an option for my patients to get even more than 6,000 hairs in just one procedure.
Brentwood, TN. (PRWEB) August 28, 2013
There are hundreds of photos and videos for patients with hair loss to see on the website http://www.greathairtransplants.com. Innovative technology such as Bolton Bundles™ and the Bolton Edge have encouraged these patients to travel in from all over the world. The MAXHARVEST™ procedure which delivers a completely natural hairline, strong density behind it, and an undetectable scar, has these patients smiling ear to ear six months after the procedure. These international patients seem to always ask the same question. Even though the MAXHARVEST™ moves 6,000 hairs, they always ask for more! Depending on the size of the head, the elasticity of the skin in the back of the scalp, and the amount hair loss, it is now possible for Dr Bolton and his elite staff to move even more than 6,000 hairs. This procedure is referred to as the MAXHARVEST™ Plus.
"My international patients that are above a class five pattern are always asking me if I can move more hair in the one procedure," stated Dr Bolton. "The MAXHARVEST Plus now creates that possibility," he added.
Dr. Bolton has performed about a dozen of these procedures over the last few months. The last one he moved 14,000 hairs in just the one procedure! That is more than double his conventional MAXHARVEST™. The patient was thrilled. Dr. Bolton continues to pioneer hair transplant technology that helps all his patients limit their procedures and maximize their density.
Great Hair Transplants
8115 Isabella Lane
Suite 6
Brentwood TN. 37027
2715 East Oakland Park Blvd.
Entire Second Floor
Fort Lauderdale, FL. 33306
Dr. Brett Bolton and Great Hair Transplants have been delivering outstanding hair transplant results to patients all around the world for more 16 years. The company brand includes the MAXHARVEST™, Bolton Bundles, the Bolton Whorl, and the Bolton Edge as techniques pioneered for patients of Great Hair Transplants. Examples of these techniques can be found on the company website, http://www.greathairtransplants.com. Hundreds of additional photos and videos can be seen at bloghairtransplant.com.