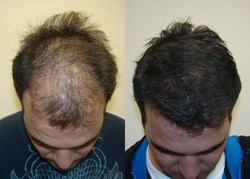 Great Hair Transplants has the largest one procedure online library in the world.
Fort Lauderdale, FL (PRWEB) October 29, 2013
Dr. Brett Bolton, a true pioneer in the hair transplant industry, is confident his latest new website, bloghairtransplant, will better help people with hair loss determine if hair transplant surgery is an option for them. Greathairtransplants.com is loaded with hundreds of one procedure before and after videos and photos for patients to review. Bloghairtransplant has now taken Dr Bolton's original idea of a video based hair transplant website to a entirely new level. "We are so confident about our results we wanted to simply hang a camera in the waiting room live all day, and allow future patients to watch the stream," explained Josh Engoren, Executive Vice President of Great Hair Transplants. "Since privacy laws would not allow that, we decided to document our procedures on a separate format where patients can add their photos and videos from around the world. The patients love it!" he concluded. The company feels strongly that prospective hair transplant patients should be able to view as many examples of all different types of hair loss as possible. "The more examples of the work, the more confident the patient will be when it comes time to make a decision." Mr. Engoren also commented that Great Hair Transplants by far has the largest number of one procedure photos and videos online in the world. For patients looking to track hair transplant progress in just one procedure, they now have an additional tool as well, bloghairtransplant.com.
Great Hair Transplants
8115 Isabella Lane
Suite 6
Brentwood TN. 37027
2715 East Oakland Park Blvd.
Entire Second Floor
Fort Lauderdale, FL. 33306
Dr. Brett Bolton and Great Hair Transplants have been delivering outstanding hair transplant results to patients all around the world for more 16 years. The company brand includes the MAXHARVEST™, Bolton Bundles, the Bolton Whorl, and the Bolton Edge as techniques pioneered for patients of Great Hair Transplants. Examples of these techniques can be found on the company website, http://www.greathairtransplants.com. Hundreds of additional photos and videos can be seen at bloghairtransplant.com.