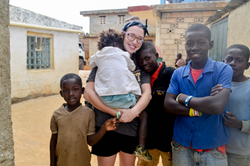 The women in Haiti often have to spend a full one-third of the year walking miles with gallon-sized buckets to get water. Water IS life to the people of Haiti.
Ann Arbor, MI (PRWEB) April 24, 2015
Lauren Sherman and Kristina Graham have a unique friendship centered around volunteer work in Haiti. The two Ann Arbor students have already been on several mission trips and both are passionate about working with the people of Haiti. During their upcoming trip to Haiti, which will be from June 14th to June 21st, they will be working with Raincatchers. This organization provides rain gutter systems with triple filtration that catch rainwater and filter it so that it's clean and wholesome to drink. This specific trip will travel to the town of Seguin and work with local families to install the rainwater gathering systems.
Kristina Graham comments, "Though Haiti has done quite a bit of rebuilding since the tragic 2010 earthquake that destroyed entire cities, there's still so much to do. Whole families live in straw Kay-Pays, which are no larger than an average bedroom in an American home. Besides the cramped quarters, the families also have to deal with poisonous spiders and other insects. At least with these rainwater filtration systems, they have the clean drinking water they need to survive."
Raincatchers has been going to Haiti for the past 11 years, helping people with this very important need. Now that most residents have heard about these gutter systems, there's a great demand for them. The rainy season in Haiti is from June to October and families can catch all the water they need during this time for the whole year.
Lauren Sherman explains: "The women in Haiti often have to spend a full one-third of the year walking miles with gallon-sized buckets to get water. Water IS life to the people of Haiti. I've personally seen how it can transform someone's life and give them hope for a better tomorrow. We are proud to be a small part in the work that Raincatchers is doing for the people of Haiti." She adds, "I absolutely love and have a passion for overseas mission work. Being immersed in the culture and loving on the people is incredible. We go to serve them, but they teach us so much. They always try to serve us. It amazes me how they have so little, but have so much love and joy to give!"
Both girls agree that, though the work is extremely hard, it's well worth it. They are quick to remind friends and family that these mission trips change them so much. "We always come home tired and dirty, but so thankful for all that God has given us," says Lauren.
Each girl needs approximately $1,850 for their airfare, food and miscellaneous expenses. They are raising money in several ways:

For more information about donating to help these girls go to Haiti, please visit: GoFundMe.com/odhj7s.
About Lauren Sherman
Lauren is a student at Central Michigan University studying Entrepreneurship. She is planning to work as a Marketing Coordinator at Pryde Athletics after graduation. She says that, as a Christian, she believes that they have a responsibility to share the word of God and the love of Christ with others. However, she also recognizes that impoverished nations like Haiti need a great deal of practical help, such as food, water, clothing and medical care. Lauren has been on several mission trips in the United States, along with one to Nicaragua and one to Mexico.
About Kristina Graham
Kristina lives in Ann Arbor, Michigan and currently works at Zingerman's Roadhouse as a hostess. She has been on over ten mission trips and two of those were to Haiti. She says that leaving is always the hardest thing because the people are so endearing. She is extremely passionate about mission work and always surprised by how much of an impact the Haitian people have on the volunteers. She stresses how the local people show them so much love and she is constantly amazed at how much she learns from one week in the mountains.
Media Contact
Kristina Graham
Tel 734-237-7424