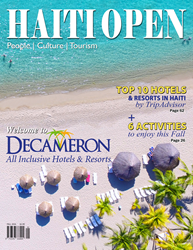 ...the top 10 hotels and resorts in Haiti include the Royal Decameron Indigo Beach Resort & Spa, Moulin Sur Mer, Karibe Hotel, and the Kinam Hotel.
North Miami, FL (PRWEB) August 31, 2016
Most travelers love the idea of a Caribbean vacation loaded with beautiful beaches, hotels and resorts, surrounded by interesting culture and amazing culinary and other recreational opportunities. In this respect, one country truly shines in 2016: Haiti. HAITI OPEN Magazine recently celebrated Haiti's exceptional qualities as a vacation spot with the release of its 2016 special Hotel Review edition, which features an informative look at the Top 10 Best Hotels and Resorts in Haiti, based on TripAdvisor ratings. It also explores things to do in Haiti, from dining at the island's divine restaurants, to other activities that one can enjoy on an unforgettable vacation in Haiti.
"Haiti has come into her own as a travel destination with all the luxury one would expect when coming to the Caribbean," commented a local expert on Haitian tourism. "The big difference is how much more affordable Haiti can be than other options, as well as the unique opportunity it offers to enjoy the culture. It's a wonderful experience, and HAITI OPEN Magazine is doing a great service with their 2016 [Haiti Hotel Review. It really allows the curious to see what Haiti offers."
According to HAITI OPEN and TripAdvisor, the top to hotels and resorts in Haiti include the Royal Decameron Indigo Beach Resort, Marriott PAP, Abaka Bay Resort, Moulin Sur Mer, Servotel, Karibe Hotel, and the Kinam Hotel. HAITI OPEN reviews these excellent choices, plus a handful of others, with a careful and inquiring eye in an effort to deliver maximum value to readers. For each Top 10 Best Hotels and Resorts in Haiti listed, the magazine's writers detail and rate the location, check the reviews, describe the amenities at the hotel or resort, rate its convenience, and explore the quality of their accommodations. The list reveals that Haiti is taking its role as a travel destination seriously, and that its Top 10 Hotels and Resorts are luxurious, safe, and offer an unmatched and authentic Caribbean adventure.
Beyond the hotels and resorts, the special edition digs deeper into a vacation experience in Haiti through articles that offer advice on how to best enjoy the country when on vacation; review some of the best Haitian restaurants; highlight some of the more interesting recreational activities; and even suggest how to plan a Destination Wedding in Haiti.
Feedback from recent guests to the country continue to be overwhelmingly positive.
"With the help of Haiti Open Magazine, my boyfriend and I went to Haiti for a full ten days," Michelle S., from Boston, recently wrote. "We really loved it in so many ways, and we're not new to traveling, resorts or the Caribbean. We stayed at the Royal Decameron Indigo Beach Resort, which exceeded our expectations, and we were surprised to see there were many places for us to enjoy our yoga practice in between the beautiful beaches and wonderful restaurants. We will be returning this year and again using Haiti Open to help us plan our trip."
To see the complete list of the TOP 10 HOTELS visit:
http://haitiopen.com/top-10-hotels-in-haiti/
View the digital version of the magazine here:
HaitiOpen.com/recent-issues