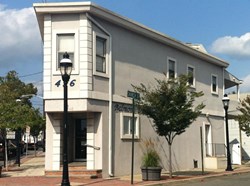 Dr. Lembo has stepped up in a big way by investing in new technology and he has helped his clients even more by making dental care more affordable with the new Belmont Dental Plan.
(PRWEB) August 01, 2013
Belmont Dental has been beefing up their practice to ensure their clients get the best affordable dental care. They recently introduced the Belmont Dental Plan, which is a low cost monthly plan that has allowed many of their clients to return for regular visits. Belmont Dental has even expanded their staff so that their clients can deal with their office staff directly, instead of dealing with various insurance companies. With the new dental plan in place, Dr. Lembo and Belmont Dental have been able to focus their efforts on optimizing their dental technology.
The practice has reported that the E4D CAD/CAM Crown machine has allowed Dr. Lembo and Belmont Dental to service their clients more efficiently without sacrificing their high standard of dental care. What makes this piece of technology unique is that the E4D CAD CAM System enables Dr. Lembo to create and install crowns for their patients in a single visit without using a separate lab. Dr. Lembo and his willingness to embrace new and innovative dental technology impressed their marketing manager, Route 72. Founder and CEO of Route 72 Systems, Jim Alamia, states: "Belmont Dental has become the one stop shop for quick and painless dental care. Patients can now get their needs met with a single visit, which should encourage many of their clients with busy schedules to return for their scheduled visits."
As further developments in the practice take place, Belmont Dental will keep their client base informed through their new Facebook page. In their most recent post, Belmont Dental lists the many yearly benefits at no charge of their new dental plan including: two regular exams, two general cleanings, x-rays as needed, two emergency exams, and two fluoride treatments for children. Route 72 has no doubts that the low monthly rate of $24.99 will help many get their oral health back on track http://www.belmontassociatesnj.com/dental-health/oral-hygiene. Jim Alamia states: "Dr. Lembo has stepped up in a big way by investing in new technology and he has helped his clients even more by making dental care more affordable with the new Belmont Dental Plan."
Reference:
http://www.belmontassociatesnj.com