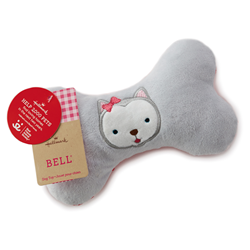 Along with Jingle and Bell, we are looking forward to supporting the efforts to find forever homes for pets in need," said John X. Watson, president of Hallmark Retail.
KANSAS CITY, Mo. (PRWEB) October 13, 2015
The lovable Hallmark plush characters Jingle® and Bell® found forever homes in their Hallmark story books and movies. Now these two husky pups will help real-life furry friends find homes of their own. This holiday season, Hallmark and Best Friends Animal Society are teaming up to help find loving homes for 2,000 shelter pets in the next two years.
"Hallmark and Best Friends have the shared goals of caring and compassion for people and pets alike," said John X. Watson, president of Hallmark Retail. "Along with Jingle and Bell, we are looking forward to supporting the efforts to find forever homes for pets in need."
To highlight this partnership, a new themed collection of Jingle and Bell items will be available for purchase at Hallmark Gold Crown® stores and online at Hallmark.com. Items available include Jingle and Bell stuffed animals in festive holiday sweaters, two coordinating plush squeaky toys that pets will love, two small books, and a double-feature DVD of the Jingle and Bell holiday programs "Jingle All the Way" and "Jingle and Bell's Christmas Star." Each of the available products will be co-branded and have information about Best Friends Animal Society on the hangtag.
Over the next two years, as part of this partnership, Hallmark will donate $100,000 to Best Friends Animal Society that will be used to help offset pet adoption fees and get 2,000 pets out of shelters and into forever homes.
"We couldn't be happier to partner with Hallmark on this campaign," said Gregory Castle, co-founder and CEO, Best Friends Animal Society. "Between the awareness we're going to generate from being in-store and on Hallmark's website to the money they've committed to directly impact dogs and cats currently in shelters, we know we're getting closer to achieving our mission to Save Them All."
About Hallmark Cards, Inc.
Hallmark makes the world a more caring place by helping people express what's in their hearts and connect in emotional ways with others. In the U.S., innovative Hallmark greeting cards and gifts are sold through the network of Hallmark Gold Crown® specialty stores, leading mass retailers and online. Worldwide, Hallmark offers products in more than 30 languages available in 100 countries. Millions of households enjoy family friendly television programming offered by cable's top-rated Hallmark Channel and fast-growing Hallmark Movies & Mysteries. Hallmark's Crayola subsidiary inspires artistic creativity in children through Crayola® crayons and markers as well as other innovative art tools, crafting activities and creative toys. Privately held Hallmark is based in Kansas City, Mo., and continues to be led by members of the founding Hall family. Visit http://corporate.hallmark.com for more details. Connect at Hallmark.com and on Facebook, Twitter, Instagram and Pinterest.
About Best Friends Animal Society
Best Friends Animal Society is the only national animal welfare organization dedicated exclusively to ending the killing of dogs and cats in America's shelters. A leader in the no-kill movement, Best Friends runs the nation's largest no-kill sanctuary for companion animals, as well as lifesaving programs in partnership with rescue groups and shelters across the country. Since its founding in 1984, Best Friends has helped reduce the number of animals killed in American shelters from 17 million per year to an estimated 4 million. By continuing to build effective initiatives that reduce the number of animals entering shelters and increase the number who find homes, Best Friends and its nationwide network of members and partners are working to Save Them All®.
To become a fan of Best Friends Animal Society on Facebook go to: http://www.facebook.com/bestfriendsanimalsociety
Follow Best Friends on Twitter: http://twitter.com/bestfriends