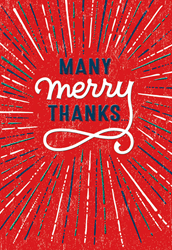 "Often the greatest gift you can give someone at the holidays is to tell them you appreciate them or love them," said Amy Merchant, Hallmark.
KANSAS CITY, Mo. (PRWEB) December 03, 2015
According to Hallmark research, nearly three-fourths of consumers who send holiday cards do so because they know how good it feels when they receive a holiday greeting. That emotional feeling, along with the desire to express appreciation for a relationship, was the inspiration for Hallmark to ask people to #CareEnough this holiday season and send a Hallmark card of thanks and gratitude.
"Hallmark's goal is to help people connect with each other and express what is in their hearts," said Amy Merchant, Hallmark marketing manager of greetings. "Often the greatest gift you can give someone at the holidays is to tell them you appreciate them or love them."
Visitors to Hallmark.com/Holiday can watch real life stories of appreciation, including gratitude for the unsung heroes at a local fire department, neighbors who became as close as sisters, and a grandma and granddaughter who consider each other "besties."
"The emotional impact from hearing these back stories reminds us how valuable our relationships are, and how important it is to acknowledge and nurture them," said Merchant.
Pop-Up Shop in Chicago
On Saturday, Dec. 5, at Water Tower Place (835 N. Michigan Avenue, 2nd floor) in Chicago, Ill., Hallmark will host a pop-up shop experience based on social currency. Visitors will be able to select a Hallmark Christmas card, and share the back story of who the card is for via Twitter or Instagram using the hashtag #CareEnough, and in return they will receive the card.
"Every card that is sent has a back story of a relationship between two people," said Merchant. "Sending and receiving a Hallmark card at the holidays is a way for people who care enough to take a moment to pause and reflect on the importance of that connection. We invite people to share their own back stories of important relationships on social media using #CareEnough."
Christmas Card Sending
With an estimated 1.2 billion Christmas cards expected to be sent this holiday season, the desire to find a tangible way to connect with family and friends remains a strong holiday need. And since Hallmark produced its first Christmas card 100 years ago, the tradition has grown to make Christmas the largest card-sending holiday in the United States.
This Christmas, Hallmark provides more than 2,000 different card designs to help people express feelings of gratitude, love and holiday cheer for family, friends and other relationships. Consumers can visit Hallmark.com/Holiday to find the nearest retail outlet that carries Hallmark cards.
About Hallmark Cards, Inc.
Hallmark makes the world a more caring place by helping people express what's in their hearts and connect in emotional ways with others. In the U.S., innovative Hallmark greeting cards and gifts are sold through the network of Hallmark Gold Crown® specialty stores, leading mass retailers and online. Worldwide, Hallmark offers products in more than 30 languages available in 100 countries. Millions of households enjoy family friendly television programming offered by cable's top-rated Hallmark Channel and fast-growing Hallmark Movies & Mysteries. Hallmark's Crayola subsidiary inspires artistic creativity in children through Crayola® crayons and markers as well as other innovative art tools, crafting activities and creative toys. Privately held Hallmark is based in Kansas City, Mo., and continues to be led by members of the founding Hall family. Visit http://corporate.hallmark.com for more details. Connect at Hallmark.com and on Facebook, Twitter, Instagram and Pinterest.