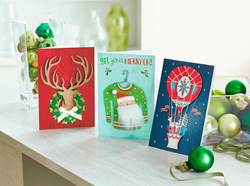 KANSAS CITY, Mo. (PRWEB) December 03, 2014
'Tis the season for holiday greetings. According to Hallmark research, nearly three-fourths of people who send some of the 1.4 billion Christmas cards each year do so because they know how good it feels to receive a holiday greeting. To make the card-sending process even easier, the experts at Hallmark have pulled together some helpful ways to find the right card, some inspiration and ideas on what to write inside, and even etiquette tips on how to address the envelope.
The first step is to find the right cards. With more than 1,500 different Christmas card designs available at Hallmark Gold Crown® stores, it's easy to find a card that perfectly captures a relationship or a person's interest including:

Send a fresh and festive card from the Family Captions collection to mom, dad, son, daughter or others.
Add a little extra glamour to the season with a holiday card from the Sarah Jessica Parker collection that includes just the right amount of sparkle and shine.
Christmas is a great time of year to say "thanks" to the people who make life brighter all year round. The Truly Thankful collection offers casual and upbeat messages of appreciation for a wide variety of recipients.
With more than 250 designs available from traditional to elegant to fun, Hallmark Christmas boxed cards offer variety and value.
Personalized cards are another great Christmas card sending option and a great way for a sender to express creativity. Hallmark.com has more than 260 cards that can be customized with photos and messages to fit any kind of relationship or occasion. Hallmark will even stamp and mail them for you with your customized message to save on time and effort.
Special laser-cut formats that are personalized with your photo and message are only found on Hallmark.com.
For multi-cultural consumers Hallmark.com offers the ability to correctly print Spanish, French, and other Latin language diacritical marks.
Hallmark.com also offers single paper ornament cards that can hang on your loved ones trees. Be creative and use them as holiday cards or even gift tags. There is even a special ornament card for baby's first Christmas.
Once you've found the right cards, it's time to start writing. In order to make the process as smooth as possible, it's best to be prepared. Gather together enough stamps, pens, cards and envelopes, an updated address book and any other family members that you have enlisted to help out.
Sometimes the card says it all, and in that case a simple addition of "Happy Holidays" or "Merry Christmas," along with a signature, is enough. Other times it's nice to add a little handwritten something for the friends and family on your list, but it can be hard to come up with just the right words. Thought starters for holiday messages include:
A warm "thank you" is almost always appropriate and appreciated.
There's no better time of year to let someone know that you are thinking of them.
Christmas is a great time of year to "look back" and reflect on the year that was or you can "look forward" to what's coming up in the new year and share your thoughts with your recipients.
If you are reaching out to someone afar who you won't be able to see over the holidays, a "miss you" message will be warmly received.
The writers of Hallmark offer some additional ideas for Christmas wishes.
Finally, once the cards have been filled out it's time to address the envelopes. This can often be the most anxiety inducing part of the process as etiquette rules and relationship statuses can be tricky to navigate. There are some general rules to follow, for example:
Miss and Ms. are generally interchangeable.
When using the word "and" it typically implies that the people listed are married.
When a married couple has different last names, it is customary to list the woman's name first.
When addressing a card to a married same-sex couple it isn't necessary to list titles (Mr. or Mrs.), you can simply list their names.
Hallmark provides additional etiquette tips on addressing envelopes for a wide variety of situations and recipients, including divorced or widowed recipients, clergy and medical professionals.