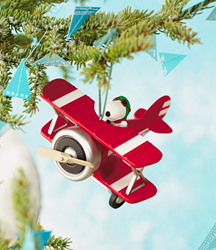 KANSAS CITY, Mo. (PRWEB) July 02, 2015
More than 200 new Hallmark Keepsake Ornaments will be unveiled during the annual Keepsake Ornament Premiere event beginning Saturday, July 11, at Hallmark Gold Crown® stores nationwide and online at Hallmark.com. The annual event gives consumers a first chance to purchase Keepsake Ornaments from the all-new 2015 line.
"Keepsake Ornament fans eagerly await the annual premiere of our new collection," said Nicole Reid, retail merchandise manager for Hallmark. "We're excited to show off this fantastic line of Keepsake Ornaments featuring top licensed properties and traditional favorites that help people remember those special times throughout the year."
The entire 2015 Hallmark Keepsake Ornaments line includes more than 400 ornaments to help people capture memories and turn the Christmas tree into a holiday experience the whole family will enjoy. More than half of the new line will be available at Keepsake Ornament Premiere.
At Ornament Premiere, consumers will find three brand-new Keepsake Ornament series and can take advantage of special offers and bonus points for Crown Rewards members, which run through July 19. Shoppers will also find eight limited-quantity ornaments, available exclusively in Hallmark Gold Crown stores. More event details can be found at Hallmark.com/OrnamentPremiere.
Fun with The Peanuts® Gang
This year marks 50 years of A Charlie Brown Christmas, and Hallmark commemorates it with a magic ornament featuring Schroeder playing piano and Snoopy dancing. The Flying Ace Keepsake Ornament will feature a design with Snoopy as the Flying Ace from The Peanuts Movie, which debuts in November. To celebrate the upcoming movie, Twentieth Century Fox has joined with Hallmark to offer an online sweepstakes (running July 15 through Oct. 30, 2015) for a chance to win a private movie screening of The Peanuts Movie.
Favorite Characters
Hallmark welcomes Barbie® doll back to the Keepsake Ornament line in 2015. At Ornament Premiere, a Celebration Barbie™ two-pack ornament set featuring the 2013 and 2014 Holiday Barbie™ Dolls will be available, with more ornaments coming this fall.
Keepsake Ornaments featuring sports figures like Russell Wilson of the NFL's Seattle Seahawks and Jonathan Toews of the NHL's Chicago Blackhawks will appear for the first time as well.
With superheroes, favorite TV and movie characters, and beloved toys – all starring as Keepsake Ornaments – there is something to appeal to every fan.
Significant Anniversaries
This year marks a key milestone for two long-time Keepsake Ornament series as they hit their 20th anniversaries:

Wendy Wishes You a Merry Christmas is the 20th ornament in the Madame Alexander doll series. Exquisitely matching every detail of the doll design, this Wendy Keepsake Ornament is perfectly coiffed, elegantly dressed, and ready to deliver season's greetings for the holidays.
The Chessie System Locomotive is the 20th ornament in the LIONEL® Trains series. Introduced in 1972, the Chessie was famous for its daring modern paint schemes. This model of the steam-powered passenger train engine is made of die-cast metal with wheels that turn.
For more information about Keepsake Ornaments, or to locate a Hallmark Gold Crown store, visit Hallmark.com.
BARBIE and associated trademarks and trade dress are owned by, and used under license from, Mattel. ©2015 Mattel. All Rights Reserved.
LIONEL ® Licensed by Lionel LLC.
©2015 Madame Alexander Doll Company, LLC.
NHL, the NHL Shield, and the word mark and image of the Stanley Cup are registered trademarks of the National Hockey League. All NHL logos and marks and NHL team logos and marks depicted herein are the property of the NHL and the respective teams and may not be reproduced without the prior written consent of NHL Enterprises, L.P.
© NHL 2015. All Rights Reserved. Jonathan Toews used under license.
© 2015 NFL Properties LLC
© 2015 NFL PLAYERS INC
© Peanuts Worldwide LLC
About Hallmark Keepsake Ornaments
In 1973, when Hallmark introduced six glass ball ornaments and 12 yarn figures as the first collection of Hallmark Keepsake Ornaments, a new tradition of Christmas decorating was started and a new collectible industry was born.
When the first line was introduced, they were unique in design, year-dated and available only for a limited time - innovations in the world of ornaments. Since 1973, Hallmark has introduced more than 8,400 different Keepsakes Ornaments and more than 100 ornament series, annual releases of ornaments that share a specific theme.
Today's Keepsake Ornaments reflect the way styles, materials, formats and technology have expanded since they first appeared in Hallmark stores. Once a collection of decorated glass balls and yarn figures, Keepsake Ornaments are now made in a wide array of wood, glass, metal, porcelain, and handcrafted formats. Technology has also been incorporated into the world of Keepsake Ornaments through light, sound and motion. The one thing that hasn't changed, however, is the superior craftsmanship and high quality that ensures Keepsake Ornaments will become family heirlooms and cherished collectibles.
About Peanuts Worldwide
The PEANUTS characters and related intellectual property are owned by Peanuts Worldwide LLC, a joint venture owned 80% by Iconix Brand Group, Inc. and 20% by members of the Charles M. Schulz family. Iconix Brand Group, Inc. owns, licenses and markets a growing portfolio of consumer brands including: CANDIE'S ®, BONGO ®, BADGLEY MISCHKA ®, JOE BOXER ®, RAMPAGE ®, MUDD ®, MOSSIMO ®, LONDON FOG ®, OCEAN PACIFIC ®, DANSKIN ®, ROCAWEAR ®, CANNON ®, ROYAL VELVET ®, FIELDCREST ®, CHARISMA ®, STARTER ®, WAVERLY ®, ZOO YORK ®, SHARPER IMAGE ®, UMBRO ®, LEE COOPER ®, ECKO UNLTD. ®, MARC ECKO ® and STRAWBERRY SHORTCAKE ®. In addition, Iconix owns interests in the ARTFUL DODGER ®, MATERIAL GIRL ®, PEANUTS ®, ED HARDY ®, TRUTH OR DARE ®, BILLIONAIRE BOYS CLUB ®, ICE CREAM ®, MODERN AMUSEMENT ®, BUFFALO ®, NICK GRAHAM ® and PONY ® brands. The Company licenses its brands to a network of leading retailers and manufacturers that touch every major segment of retail distribution from the luxury market to the mass market in both the U.S. and worldwide. Through its in-house business development, merchandising, advertising and public relations departments, Iconix manages its brands to drive greater consumer awareness and equity.
About The Peanuts Movie
In The Peanuts Movie, flying into theaters everywhere November 6, 2015, Charlie Brown, Snoopy, Lucy, Linus and the rest of the beloved "Peanuts" gang make their big-screen debut, like they've never been seen before, in state of the art 3D animation. Snoopy, the world's most lovable beagle – and flying ace – embarks upon his greatest mission as he takes to the skies to pursue his arch-nemesis The Red Baron, while his best pal, Charlie Brown, begins his own epic quest. From the imagination of Charles M. Schulz and the creators of the Ice Age films, The Peanuts Movie will prove that every underdog has his day.