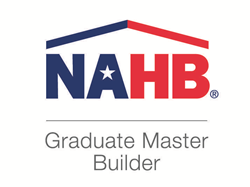 I can provide better services for our customers
Anderson,IN (PRWEB) March 09, 2015
Paul Schwinghammer of Hallmark Homes, Inc. has become one of a select group of professional home builders nationwide to attain the Graduate Master Builder (GMB) designation, identifying him as one of the building industry's top professionals.
Administered by National Association of Home Builders (NAHB) Education, the GMB program is sponsored by local Home Builders Associations across the country.
"I am happy to have completed this designation," said Hallmark Homes Owner, Paul Schwinghammer. "The curriculum is very comprehensive, and now I believe I can provide better services for our customers."
To qualify for the GMB designation program, a builder must have attained either the Certified Graduate Builder (CGB) or Certified Graduate Remodeler (CGR) designations and have five years of building industry experience or have successfully completed an additional three NAHB-approved courses and have at least 10 years of industry experience.
GMB graduates complete an intensive series of courses on how to capitalize on business opportunities, executive-level financial management, managing risk in an evolving market and other building industry topics.
Hallmark Homes, Inc. was formed in 1992 and has built nearly 2,000 homes on customer owned land. They currently have 5 Indiana locations in Anderson, Kokomo, Lebanon, Lafayette,and Edinburgh and a Louisville, Kentucky location.
To learn more about the Graduate Master Builder educational designation, visit http://www.nahb.org. For more about Hallmark Homes, Inc. visit http://www.hallmarkhomes.com.