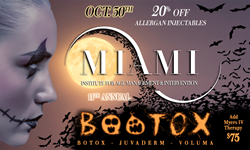 One-day event to receive an unprecedented 20% discount on all Allergan injectables.
Miami, FL (PRWEB) October 07, 2015
The MIAMI Institute is excited to announce the 11th Annual BOO-Tox event just in time for Halloween. Get ready to look frightfully fresh this Halloween with deep discounts being offered on BOTOX, JUVEDERM AND VOLUMA. With a little "BOO-Tox" therapy, kick off a season of parties with a refreshed look that will last through the holidays. At this one-day event, receive an unprecedented 20% discount on all Allergan injectables.
Take advantage of this once a year opportunity and join the Brilliant Distinction Program where patients earn points for every treatment redeemable for big savings. For patients that have ever considered any of the effective products offered by Allergan, now is the chance to try them at a deep discount and enroll in a program to continue looking great all year long.
This very popular annual event will feature only Allergan Injectables and world-renowned Dr. Julio Gallo and Physician's Assistant Yamiley Gedeon will be responsible for the procedures, ensuring the experience is a great one.
To ensure that all those wishing to participate in BOO-Tox get a chance, The MIAMI Institute is offering appointments for the program up to December 31st, as long as the appointment is booked and payment is received before the BOO-Tox event on October 30th.
In addition to the exclusive discount on injectables, The MIAMI Institute is proud to announce a discount on the IV Therapy Myer's Cocktail during the event as well. This brief, relaxing treatment provides an instant 'pick me up' for those suffering from low energy levels, fibromyalgia and other fatigue symptoms.
As this is the 11th Annual BOO-Tox event, appointments will fill up fast, so it is recommended to book appointments as quickly as possible. Please be sure to let The MIAMI Institute know all treatments of interested to ensure proper scheduling.
For those seeking other treatments on October 30th, the Miami Institute will only be accepting bookings for BOO-Tox therapies, so please select another available appointment date. Patients and newcomers are welcome, and are invited to join the Brilliant Distinction Program; book online or by phone.
Come out and have a scary good time at an event dedicated to health and wellness at one of the world's premier centers for individual beauty.