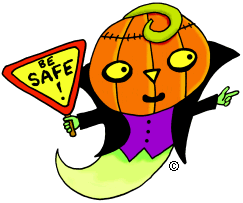 Halloween can be a scary time protect your little ones and home the smart way this year.
Washington D.C. (PRWEB) October 28, 2013
Halloween can be a lot of fun, for both children and adults, but it's also important that homeowners and residents don't become lax in terms of their home security during this time. The home security and alarm professionals at AlarmSystemReport.com warn residents against forgetting home security on Halloween. AlarmSystemReport.com is a site that provides reviews of the best home alarm companies throughout the country, including comprehensive ADT reviews.
Alarm System Report has the following home security tips, specifically for Halloween:
1. Ensure that motion sensor lights are working properly. This is a great way to not only keep trick or treaters safe, but it will also serve to deter potential burglars and vandals.
2. Set a time to end the trick or treating. Depending on an individual community, most of the legitimate trick or treating activity is finished by 8:00 or 9:00, so be aware if people are outside after this time, it could be a reason for suspicion. It's recommended that homeowners stop answering doors after a set time, to avoid potential predators.
3. For homeowners with a garage, it's a good idea to park cars inside during Halloween, to avoid vandalism.
4. For homeowners with a top alarm system, it's important to arm it, even in the commotion associated with Halloween. Thieves count on homeowners being distracted during this time, and forgetting to arm alarm systems, which leaves them with the perfect opportunity to strike.
5. Keep windows and doors locked even during prime trick or treating hours. A burglar can target a home even if the door is unlocked only for a few moments, so every time a homeowners opens the door for a trick or treater, it's best to lock it again, immediately after. If children will be answering the door, remind them to do the same, or make a note beside the door, if necessary.
6. Advise children to only trick or treat in well-lit areas, and in a large group. Children should avoid alleyways and other dark areas. It's also important to educate children about the importance of not going inside strange homes or cars, even during this time of fun and excitement.
7. Create a pre-determined trick or treating route for children. Map it out ahead of time, and warn children how important it is to stay on this route.
About AlarmSystemReport.com
AlarmSystemReport.com is the nation's leading independent, third-party provider of information pertaining to home alarm systems and security systems. The site provides in-depth reviews of top companies in each state, from Arizona security systems to Florida security systems. Each review is conducted in a unique secret shopper format, to ensure it matches the consumer's experience as closely as possible.