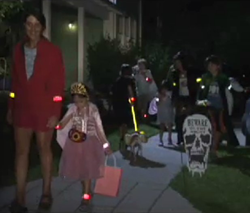 Making sure trick or treaters are more visible to drivers is easy by adding POP BANDS to their costume, arm, or leg.
Boulder, Colorado (PRWEB) October 08, 2014
Telling of ghost stories, viewing of horror films, visiting a haunted house or other dark attraction are typical Halloween traditions. On Halloween, the scares are supposed to be imaginary. But, all too often, the make-believe fear becomes genuine anguish when children and teens are injured, or even killed, when they're hit by cars or injured in other types of accidents.
Every 7 minutes a pedestrian is either injured or killed in a traffic accident with fifty percent of these injuries occurring between 6 p.m. and 12 a.m.
Research shows that children are four times more likely to be hit by a car on Halloween than on any other night of the year. Most trick-or-treating will take place when it's dark, making it harder for drivers to spot excited, inattentive kids who may dart out into the road and who may be wearing masks making it harder for them to spot oncoming cars as well.
Making sure trick or treaters are more visible to drivers is easy by adding POP BANDS™ to their costume, arm, or leg. Super Reflective POP BANDS™ provide 360 degrees of visibility in low light conditions and can be worn on arms, ankles, wrists, bike handles, baby carriages, back packs ... and more. The company's best-selling POP BANDS™, which pop on like snap bands. Just pop them on … and go off to trick-or-treat! See them in action on YouTube.
POP BANDS™ and other Vedante reflective products are not "glow in the dark" products. Distinctively designed to deliver powerful visibility, Vedante products are like wearing millions of tiny crystal beads that reflect light back to the source in which that light is coming from. Vedante POPBANDS™ create visibility up to 1500 feet in the face of headlights. They have been developed in conjunction with 3M. White and Yellow reflect up to 1500 feet, Tangerine reflects up to 1050 feet. Red, Blue, Green and Yellow reflect up to 500 feet. POP BANDS are available in medium (1.25" x 11.75") and large (1.25" x 14.75") with a suggested retail cost of $13.98/pair and are high-quality and low-cost for use year round.
Vedante CEO, Barbara Kantor, is thrilled to announce this year's top Halloween Costumes as seen in Vedante's Pinterest Boards: Halloween and Best Dog and Cat Costumes.
Vedante's Super Reflective products can be purchased online at Vedante's e-commerce website,Amazon.com in the USA, Amazon Canada, Amazon UK, and select retailers.
Daylight savings time ends on November 2nd. POP BANDS are an important and timely
purchase -- with a durability that allows for year-round safety for pedestrians, cats, dogs and cyclists.
Halloween is a great time to start thinking about safety, but it's something everyone should consider every
night.
Vedante also offers a line of super-reflective dog and cat products, including collars and leashes. Vedante's pet collars come with a bonus Glow in the Dark ID Tag. Vedante's Super Reflective Cat Collar's retail for $13.98, Super Reflective Dog Collar's retail from $12.98 - $19.98 and Vedante Super Reflective Dog Leashes retail from $29.98 to $45.98.
~~~~~~~
About Vedante:
CEO Barbara Kantor founded Vedante in 2006. Barbara's inspiration came during an evening walk when she witnessed a pedestrian being struck by a car. The pedestrian, in a cross walk, was unaware of the driver's inability to see her. Deeply impacted by what she saw, Barbara delved into research on safety and visibility and then studied reflective products that were currently on the market. Barbara's research and her 25 year background in fashion design led to her development of Vedante reflective safety products that are attractive and easy to use.
Vedante is a company committed to saving lives and reducing injuries from pedestrian-vehicle and bicycle-vehicle accidents by 80% in markets in which it operates. The mission is to increase visibility, and therefore nighttime safety through education, awareness campaigns and the creation of great "fashion that reflects well on you™." Vedante donates 5% of gross profits on unpackaged products to safety and sustainability charities. For more information, visit Vedante's website.
Vedante has consistently ranked among the top 10 best sellers in the United States at Amazon.com in its respective categories for super-reflective POP BANDS (for people) and super-reflective pet Collars\Leashes.
###