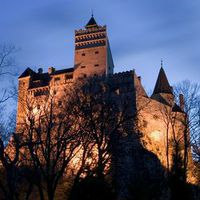 Pompano Beach, Florida (PRWEB) October 28, 2015
It's Halloween, that spooky time of the year when ghosts, goblins and zombies might be just around the corner. From haunted homes and hotels to ghost towns and celebrity murder homes, TopTenRealEstateDeals.com spotlights the best Halloween news stories.
"Thirteen Haunted Hotels"
Some of the world's best hotels might be haunted. Luxury hotels including Boston's Omni Parker House, New Orleans' Bourbon Orleans Hotel and the Omni Shoreham Hotel in Washington, D.C. offer their guests a warm bed, shower and the chance of a ghost sighting. Spirits include long deceased nuns, soldiers, children and even the Alice B. Toklas ghost, famous for her pot brownies, at the Hotel Sorrento in Seattle.
"America's Top 10 Ghost Towns"
America is blessed with the best ghost towns, many of which are a result of the 1800's gold rush spike. Towns could boom and bust in just a few years when the gold ran out.
"America's Best Fake Haunted Houses"
According to HauntWorld.com, the #1 haunted home attraction in the United States is an outdoor set in a New Hampshire forest. In second place is a haunted horseman hayride with 75 actors in Ulster, New York. The 13th Gate in Baton Rouge, Louisiana that includes a real-life, snake-invested swamp comes in third place.
"Celebrity Murder Homes For Sale"
Is it difficult to sell a house where a gruesome and famous murder or suicide occurred? NBC has the story on the Sharon Tate, Jeffrey Dahmer, Oscar Pistorius, Nicole Simpson, Heath Ledger, Jon Benet Ramsey and Amy Winehouse death houses.
"Abandoned Scary Castles"
Castles are expensive to maintain. Tall ceilings, big rooms and damp dungeons will drive up the electric bill.
"Create Your Own Haunted Home"
Create a haunted home with Realtor.com's Halloween web feature. Users can create a home with spooky colors, witches, ghosts and even sounds.
"America's Top 10 Haunted Sites"
The most haunted places in America include a Philadelphia tavern, an Atlanta theater, New Orleans cemetery and the Ohio State Reformatory. "USA Today" has the story.
"Horror Movie Locations You Can Visit"
Some of America's favorite horror movie film locations actually exist and are open to the public. Visit the Evans City Cemetery in Pennsylvania where "Night of the Living Dead" was filmed or the "Halloween" movie house of Michael Myers in Pasadena, California, the Dakota in New York City where "Rosemary's Baby" lived, or the Crystal Lake Diner in New Jersey where "Friday the 13th" was filmed.
"Hollywood Stars' Haunted Homes"
Some people believe that Michael Jackson's spirit lives on at his Neverland Ranch. There are similar stories that the ghosts of Lucille Ball, Marilyn Monroe and Rudolph Valentino haunt their former homes.
"Real Life Haunted Homes"
Real life homes of terror - mass murders, mysterious deaths, double suicides and witch homes.
Visit TopTenRealEstateDeals.com for more celebrity, historic, famous and haunted homes for sale. Check out today's most entertaining, important and unusual real estate news stories of the week.