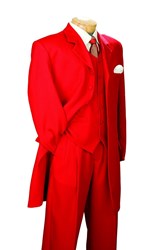 These are outfits that can be used year after year and won't ever go out of style.
(PRWEB) September 24, 2013
Choosing a Halloween Costume from the local costume shop can be like choosing a pumpkin from a pumpkin patch – each pumpkin is unique but, in the end, it's just a pumpkin. For those who are looking for something more in a Halloween Costume, Tuxedosonline.com can help customers avoid getting caught up in the zombie rush for the same old, cheap Halloween costumes that have become the norm in today's party scene.
Forget the tricks and treat yourself to some of the finest Halloween-wear found online. At Tuxedosonline.com, the discerning Halloween costume shopper will find a selection of:
-Orange Bowties and Vests
-Zoot Suits and Zoot Chains
-Top Hats and Bowlers
-Sequin Hats
-Sequin Tux Jackets
-Formal Canes and Walking Sticks
-Dumb and Dumber Tuxedos
-Camouflage Tuxes
-Formal Gloves
All of these products are available in a variety of noticeable colors and are priced for the budget-minded shopper. In fact, many of the quality tuxedos at Tuxedosonline.com are available for purchase at prices lower than a tuxedo rental.
"These are real, quality tuxedos – not something cheap from the local costume shop – and they are available for less than a costume rental. These are outfits that can be used year after year and won't ever go out of style," said Vrej, a representative of the website.
In addition to Halloween costumes, TuxedosOnline.com has available a large selection of beautifully-crafted, stylish tuxedos, suits, sports coats and accessories, including suspenders, tuxedo shoes, cufflinks, hats, pocket squares and more. There are also sections of the website specifically for wedding, prom, homecoming and quinceañera tuxedos.
About:
TuxedosOnline.com has been named "Best of the Web" by USA: Tuxedos since 2008. The web-based vendor is the internet superstore for men's formalwear tuxedo shirts, tuxedo vests and tuxedo uniforms and is one of the oldest companies to sell tuxedos on the internet. They are highly rated on bizrate.com, eBay, and other internet rating services. Although the tuxedo rental industry has reported declines in the amount of rentals for the past few years, TuxedosOnline.com has grown over 40% a year for the past three years.
For the full range of tuxedos, including wedding tuxedos, accessories, shoes, and shirts, as well as the entire MODA Formalwear line, visit TuxedosOnline.com or call (818) 765-9479 or (888) 968-4TUX. The wedding page can be found at http://www.tuxedosonline.com/wedding_retail.asp.