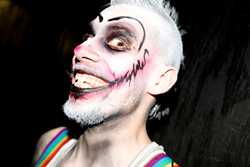 FORT WORTH, Texas (PRWEB) September 27, 2019
With summer officially at an end, that means only one thing: Halloween is right around the corner! If anyone says it's still too early to indulge in pumpkin spice lattes, scary movies, and haunted houses, they've got another thing coming. Cutting Edge Haunted House in Fort Worth, TX, will be kicking off the Halloween 2019 season this Friday, September 28th, 2019. Tickets are on sale now!
Since 1991, Cutting Edge has delivered one of the most riveting Halloween experiences in North America. Unlike other haunted house attractions, the Cutting Edge immerses its guests in an interactive, nail-biting sequence of events straight out of a nightmare. Located in Fort Worth's Hell's Half Acre precinct, you'll discover the action-packed Cutting Edge experience looming away in an old, haunted meat-packing plant. The daring trek through the warehouse stretches over half a mile, and with plenty of scares and creatures to brave along the way, guests can spend up to 55 minutes completing the adventure from start to end.
Looking back, Cutting Edge Haunted House has garnered critical acclaim over the course of its 25+ year run. Travel Channel, Hauntworld, Yahoo Travel, and America Haunts have awarded the Cutting Edge as the top haunted house for consecutive years. In 2015, the Cutting Edge became the largest haunted house and walk-through attraction in the Guinness Book of World Records - and this Halloween 2019, the thrills will be as monstrous and terrifying as ever!
Upon entering, guests will see the old meat conveyor belt busy at work, hoisting and carrying mannequins throughout the plant. From evil clowns and vengeful brides to bloodthirsty rabbits, zombies, and wicked spirits, come down and discover your worst nightmare. Prior to entering, your heart will race to the eerie thumping of the haunted marching band playing outside. As you navigate your way through each spine-chilling obstacle, you'll encounter lurking and interactive thrills around every corner.
The mischievous ghouls at Cutting Edge Haunted House will start causing the ruckus at 8:00 PM on Friday, September 28, 2019. Cutting Edge will be open every Friday, Saturday, and Sunday in October until Saturday, November 2nd. Ticket promos are available, and you can buy your tickets online or at the door!