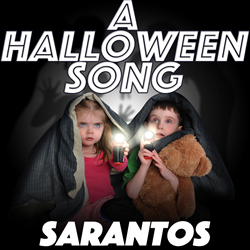 I grew up idolizing Thriller as one of my all time favorite Halloween songs, so I had to throw in a famous dancing celebrity
Park Ridge, IL (PRWEB) October 11, 2016
Sarantos Releases A New Music Video For "A Halloween Song" As Fans Finally Get The Answer To The Question Of Which Famous Celebrity Is In It.
Sarantos has always loved Halloween and fondly remembers throwing lively costume parties in high school so it was no surprise to fans that Sarantos wanted to create a classic pop style Halloween song with an infectious melody and catchy lyrics. This song has rated very well although of course, it's specific to the month of October. For the music video, Sarantos wanted to create a mixture of live footage and animation. The focus is on Halloween costumes, trick-or-treating, and yes, candy. There is dancing and maybe even a famous celebrity who makes a surprise guest appearance.
"This music video is all about the fun and suspense of a typical Halloween night," says Sarantos. "The song still takes center stage with a melody that you just cannot ignore. It was quite a challenge to come up with a storyboard that would keep the focus on the song while still adding something extra special to it. I thought adding animation would be the perfect compliment. The main story features some young trick or treaters focused on getting all the candy they can get their hands on while all the classic Halloween monsters try to get them. Since I'm a nerd at heart and love video games, I thought throwing a Halloween video game into the plot would be cool too! Finally, I grew up idolizing Thriller as one of my all time favorite Halloween songs, so I had to throw in a famous dancing celebrity, didn't I?"
33% of any music-related sales profits from this song are going straight to Spirit Of Children. They help make hospitals less scary for kids and their families by providing fun during Halloween.
Sarantos' unique sound has been best described by industry insiders as an "emotionally powerful vocal style masterfully united with music that is a fusion of classic '80s rock blended with modern soft rock and pop music."
Since 2014, Sarantos has won over 32 awards with Akademia LA Music and Beat 100, while also being nominated for the International Music & Entertainment Awards and the Hollywood Songwriting Awards. Even without ever using a professional music studio, label, ad agency or radio promoters, "Dreamer" & "What If I Never See You Again" have spent many months in the top 200 on the majors list in the US for radio airplay according to the Digital Radio Tracker Top 200 charts. On the independent charts, Sarantos has hit the top 10 twice.
*Because Sarantos wants top 40 pop music shared throughout the world, fans can always find downloadable songs, lyric sheets, videos and books on the website. Fans can sign up for the email list to get the inside scoop first and exclusive content available nowhere else.
Facebook: http://www.facebook.com/Sarantosmelogia
Spotify: play.spotify.com/artist/0fSzbfDxSHL10T1ryPsRLQ