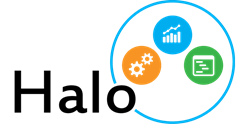 Halo's latest release provides functional business leaders the tools they need to better manage supply chain data quality issues
San Diego, California (PRWEB) October 14, 2015
Halo, a provider of scalable, end-to-end supply chain intelligence solutions, announces their latest release of Halo 15.2 at AXUG Summit. Halo's supply chain intelligence software helps companies gain greater visibility and insight to their operational performance. This latest product release includes new capabilities for demand forecasting and performance alerting. Halo's alerting component enables operations managers to know immediately when there is an inventory shortage or production surplus so they can take action quickly to meet financial targets.
Key application updates also include:
Sales Forecasting – Halo sales forecasting uses multiple data sources to predict future demand and understand the impact of trade promotions.
Budget Planner – a rapid budget and forecasting solution with workflow and editing features normally found in enterprise software solutions.
Data Quality – a Data Quality module that actively aggregates, renames and moves incorrect data to its proper place without needing IT involvement.
Alerting – Conditional alerting enables managers to create and automatically send customized messages based on continuous monitoring of performance data.
"Halo's latest release provides functional business leaders the tools they need to better manage supply chain data quality issues, easily plan and manage budgets and also be notified immediately of important items," says Keith Peterson, President and CEO of Halo. "Halo 15.2 puts the power of enterprise business intelligence in the hands of the business user, when they need it and how they need it."
Join Halo's speaking sessions at AXUG Summit and meet the Halo Team at booth #430.
About Halo
Halo delivers supply chain intelligence solutions to hundreds of enterprise customers and service provider partners in North America, Europe, and the Asia-Pacific. Our customer-driven analytics platform radically simplifies information management and operational analytics, enabling organizations to build more competitive supply chains. Halo replaces the complexity of siloed data sources and disparate applications with a single-purpose platform that lets firms analyze, decide and plan faster than ever before. Halo is headquartered in San Diego, California, and can be reached via the web (halobi.com), Twitter (@halo_bi) or email at info(at)halobi.com.