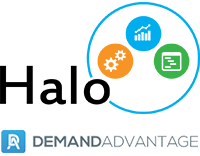 Our partnership with Halo is designed to help companies transform their demand planning practices and take advantage of analytics and automation technologies from Halo
San Diego, CA (PRWEB) October 19, 2016
Halo today announced an alliance with San Diego-based Demand Advantage to bring to market supply chain-specific solutions that will help customers use cloud, analytics, and data products to advance their digital supply chain transformation agenda and improve business performance. Demand Advantage will apply its deep demand planning expertise and capabilities to help enterprise customers improve the value of Halo technologies within their organizations.
"The Demand Advantage partnership accelerates our digital supply chain strategy, and will help customers benefit from innovative cloud solutions for demand planning built on the full stack of Halo technologies," said Keith Peterson, Ph.D., Chief Executive Officer, Halo. "Whether our customers need more accurate forecasting methods, best practices for sales and operations planning, or increased value from their technology investments, access to the right data analysis should be their starting point. Demand Advantage will help Halo customers to solve high priority business needs and accelerate their move to the digital supply chain."
"Our partnership with Halo is designed to help companies transform their demand planning practices and take advantage of analytics and automation technologies from Halo," said Kevin Crouteau, Founder and CEO of Demand Advantage. "We can move quickly to meet the overall needs of our customers by combining our practice expertise with Halo's ongoing product advances."
Halo and Demand Advantage will work together to deliver demand forecasting and sales and operations planning solutions to customers in consumer packaged goods manufacturing, distribution and retail. The solutions will combine products from Halo including data management, visualization and prediction technologies. Both companies will provide dedicated resources to support product development, customer advisory services, and training.
Halo's business intelligence innovation and long-term relationships with more than 250 customers in North and South America, Asia and Europe – will be a key channel as the partnership looks to help foster the global transformation to the digital supply chain. Demand Advantage has developed a consulting and training platform to assist companies in optimizing their people, process and technology investments.
About Halo
Halo delivers self-service supply chain intelligence solutions to hundreds of enterprise customers and service provider partners in North and South America, Europe, and Asia-Pacific. Our solutions provide enterprise grade products without the drag and cost of major platforms. Halo replaces the complexity of siloed data sources and disparate applications with a single-purpose platform that lets firms analyze, decide and plan faster than ever before. Halo is headquartered in San Diego, California, and can be reached via the web (halobi.com), Twitter (@Halo_BI) or email at info@halobi.com.
About Demand Advantage
Demand Advantage provides best in class practices & processes in Demand Management, Demand Planning, Statistical Forecasting, and Integrated Business Planning (S&OP). Demand Advantage believes small improvements in practices and processes, coupled with a greater understanding of the organization's information lead to better decision making. Demand Advantage can be reached via the web (demandadvantageinc.com) or email at info(at)demandadvantageinc(dot)com.