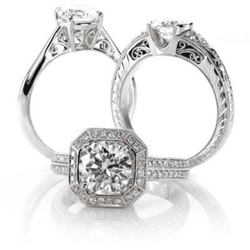 Our pieces are made to last for generations, to be passed down someday as an heirloom.
Minneapolis, MN (PRWEB) June 04, 2014
Knox Jewelers, a company that designs beautiful and unique engagement rings, has just launched a new program called "See This Ring" that gives customers the opportunity to see, hold, and try on engagement rings before they purchase them. Also called "Try Before You Buy," Knox Jewelers will ship out the rings to prospective clients for a $50 fee. The amount is then deducted from the purchase price, should the potential customer decide to buy the ring. The program is for customers in the contiguous United States.
The fact that Knox Jewelers would create such an innovative and helpful service probably does not come as a surprise to the many satisfied customers who have purchased antique engagement rings and other stunning jewelry over the years. The company has developed a well-deserved reputation for their commitment to outstanding service.
"We are a family-owned jeweler and your satisfaction is our number one priority," a spokesperson for Knox Jewelers noted, adding that in addition to their heirloom quality pieces, they deliver top notch service.
"Our salespeople, artisans, and jewelers have many years of experience in fine jewelry consultation and we're experts at making the perfect engagement ring for you."
One style of ring that is especially popular with customers, the spokesperson noted, is halo engagement rings. The rings feature a perimeter, or halo, of diamonds that are placed around the center stone. The talented jewelers use different sizes of halo diamonds and settings to create a variety of effects with these breathtaking rings. The most common designs feature milgrain or U-cut micropave.
In addition to the halo rings, Knox Jewelers also specializes in a wide variety of unique rings. All of their pieces are carefully and expertly crafted by the company's master jewelers in their Minneapolis, Minnesota studio. Each custom made ring is designed to fit the person's finger size and will be created from the exact center stone the customer has selected.
"Our pieces are made to last for generations, to be passed down someday as an heirloom," the spokesperson said.
Anybody who would like to learn more about Knox Jewelers is welcome to visit the company's website at any time; there, they can browse through the vast selection of gorgeous engagement rings. Those who wish to take advantage of the new "See This Ring" program may contact the company for more information.
About Knox Jewelers:
Knox Jewelers designs and manufactures unique engagement rings and wedding bands. Based in Minneapolis, Minnesota, the company focuses on creating one-of-a-kind and heirloom quality pieces from conflict-free sources. For more information, please visit http://www.knoxjewelers.biz/.