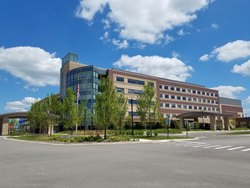 Centegra Health System's partnership with Hammes Company contributed to the development of the healing environment we will provide our patients at Centegra Hospital-Huntley beginning Aug. 9.
HUNTLEY, Ill., and MILWAUKEE (PRWEB) August 03, 2016
Many years of visioning, planning and hard work will come to fruition in the village of Huntley next week, as Centegra Health System and its program management partner, Milwaukee-based Hammes Company, unveil the new $230 million, 128-bed Centegra Hospital-Huntley.
Centegra chose Hammes Company, the nation's largest healthcare real estate developer, in October 2010 to be its owner's representative and program manager for the construction of its new flagship hospital on its existing Centegra Health Campus at the intersection of Algonquin and Haligus Roads, about 50 miles northwest of Chicago. Ground was broken in February 2014 and Hammes has delivered a "state-of-the-art" facility that will open Aug. 9 – four months ahead of schedule and $3 million under budget.
Situated on what was once a strawberry patch surrounded by cornfields, the new hospital represents a multifaceted win for the community. It expands on the existing outpatient services on the campus to provide an even higher level of care for the town of Huntley and the citizens of rapidly expanding McHenry and Northern Kane counties, while providing an economic boon to the local workforce.
As only the second new hospital to be built in the area in the past 30 years, Centegra Hospital-Huntley has been carefully planned and executed to provide advanced healthcare and a healing environment. Along with general medical and surgical services, features include a cardiac catheterization lab, two Level II trauma rooms, a Family Birth Center and a special care nursery. A helipad adjacent to the Emergency Department will accommodate critical Flight for Life situations. All patient rooms are private and same-sided so that all rooms are identical, promoting safety and staff efficiency. In each room there is a Family Zone to accommodate visiting and attending family members.
"Centegra Health System's partnership with Hammes Company contributed to the development of the healing environment we will provide our patients at Centegra Hospital-Huntley beginning Aug. 9," said Michael S. Eesley, Chief Executive Officer of Centegra. "The Hammes team's approach aligned with our goals to build a hospital that meets our community's needs and reflects good stewardship of our resources. Hammes helped our organization turn Centegra Hospital-Huntley from a vision into a reality."
"Hammes Company has been able to deliver effective and strategic project management expertise to help Centegra Hospital - Huntley complete their vision to bring quality healthcare and more to this growing and vibrant area," said James A. Both, Project Executive with Hammes Company.
"Bringing top quality healthcare to this wonderful community is why we do what we do We have been assisting Centegra Health Systems with consulting and project management since 1995," said David Connolly, Senior Vice President of Hammes Company.
Centegra Hospital-Huntley began December 2010 when a Certificate of Need (CON) was submitted, and approved July 2012. Significant planning began November 2012, with patient experience teams began working with full-scale mock-ups of patient care rooms in a space at Centegra Hospital-McHenry. In November 2013, a Circuit Court judge ruled in favor of Centegra Health System, and the Illinois Health Facilities and Services Review Board upheld the CON approval. During every phase of construction, feedback sessions with staff on how to optimize workflow helped shape and bring innovative design to the final product.
Another great benefit to the area has been the positive economic impact, estimated at $152 million. More than 800 construction jobs were created to build Centegra Hospital-Huntley, with much of the work completed by local contractors. In addition, Centegra, McHenry County's largest employer, plans to employ more than 1,000 people at the Huntley hospital.
"The project was truly a community effort, with many local citizens contributing to the development of their new hospital," Mr. Both added. "It's had a big impact on the overall community where each person put their best efforts forth and will be proud to add Centegra Hospital-Huntley to their portfolio."
Centegra Hospital-Huntley marks the third project between Centegra and Hammes Company, with previous collaborations on outpatient facilities near Centegra's Woodstock and McHenry, Ill., campuses.
In addition to Hammes Company, the project team included general contractor Power Construction, of Schaumburg, Ill; project architect Kahler Slater of Milwaukee and MEP engineering firm Korda of Columbus, Ohio.
(Please see following Fact Sheet for additional information.)
About Centegra Health System
Centegra Health System is committed to meeting the health care needs of the residents of greater McHenry County and Northern Kane County and to making services available in multiple and convenient locations, including hospitals in McHenry and Woodstock, Immediate and Physician Care Centers, Centegra Sage Cancer Center, Health Bridge Fitness Centers.
As the region's leading health care provider, Centegra Health System continues to bring the latest treatments and technology, along with the skills of nearly 4,000 associates, to meet the needs of the growing McHenry County and Northern Kane County communities. For more information about Centegra Health System visit centegra.org, search Centegra Health System on Facebook and Twitter or call 877-CENTEGRA (236-8347).
About Hammes Company
Hammes Company is comprised of a team of accomplished professionals with deep industry and functional expertise. The company assists a full spectrum of healthcare clients by advising, implementing and managing key strategies and solutions that build high-performing organizations. Hammes Company is recognized by leading healthcare providers and industry insiders as one of the most trusted providers of consulting services in the United States. The company currently serves health systems, hospitals, physician groups and payers. Hammes Company is headquartered in Milwaukee and provides services through a network of regional offices strategically located across the country in Atlanta; Boston; Chicago; Dallas; Denver; Grand Rapids, Mich.; Houston; Los Angeles; Newport News, R.I.; New York; Richmond, Va.; Seattle; and Washington, D.C. For more information, please visit http://www.hammesco.com.
Fact Sheet
Centegra Hospital - Huntley
Location: 10400 Haligus Rd, Huntley, IL 60142
Size: 385,000 square feet, with 128 beds including 12 ICU Beds, 8 operating rooms on 107 acres of land
Departments:

Inpatient surgery and recovery
Same-day surgery
Two endoscopy suites
Level II Trauma Emergency Department
A full range of diagnostic and imaging including:
Radiology
Radiography/Fluoroscopy
Ultrasound
CT Scanning
MRI Scanning
Nuclear Medicine
6 private Labor/Delivery/Recovery suites
2 C-section suites
Private newborn nurseries
Inpatient physical therapy and occupational therapy
Cardiology, including noninvasive diagnostics and a cardiac catheterization lab
Neurodiagnostics
Pulmonary function testing
Respiratory therapy
Inpatient acute dialysis
Clinical laboratory
Inpatient pharmacies and Centegra Care Connections retail pharmacy
Food service, including a casual café with outdoor seating
Onsite helipad to transfer critical patients
Schedule: Planning began November 2012. Design started February 2013. Broke ground February 2014. Opening scheduled for Aug. 9, 2016.
Owner: Centegra Health; http://www.centegra.org
Project Manager/Owner's Representative: Hammes Company, Milwaukee; http://www.hammesco.com
Project Architect: Kahler Slater, Milwaukee; http://www.kahlerslater.com
General Contractor: Power Construction, Schaumburg, Illinois