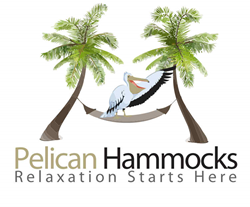 With the help of our customers, our socially conscious efforts have created over one hundred jobs in marginalized villages throughout Central America
Saint Augustine, FL (PRWEB) September 23, 2014
Hammocks of every shape, size, and design are available on the newly revamped website for Pelican Hammocks. This family-owned company based out of Saint Augustine, Florida, just launched their latest website that offers their top quality, 100 percent hand-woven hammocks.
"We completely revamped our website and added new functionality," said Julie Smith, Pelican Hammocks' spokesperson. "The biggest addition was a new software tool for our customers to design their own 100 percent hand-woven hammock."
Smith said this tool allows customers to customize the hammock type, material, size, color and design patterns.
In addition to the new website, Pelican Hammocks is pleased to announce a new line of hammocks that are available in six stylish designs.
Smith added that all of Pelican Hammocks' products offer four key attributes.
First, Pelican Hammocks offers unmatched comfort by using a unique diamond weave pattern specifically designed to mold around a customer's body for maximum comfort, said Smith.
In addition, Smith said that the products offer strength, design and craftsmanship. Although they appear to be delicately hand-woven, Pelican Hammocks can comfortably support up to 550 pounds, said Smith. She added that their designs feature an array of perfectly matched complimenting colors, and each Pelican Hammock is 100 percent hand-woven by an expert artisan, featuring up to 150,000 loops and 5 miles of premium cotton.
Pelican Hammocks also offers a number of hammock accessories and stands through their newly redesigned website. Customers can find everything they need by visiting this easy to use website.
The mission of Pelican Hammocks is to create positive change through a high-quality and affordable product that people can love and enjoy,.one hammock at a time.
"With the help of our customers, our socially conscious efforts have created over one hundred jobs in marginalized villages throughout Central America," said Smith. "These jobs have increased family incomes by over 600 percent, which in turn have elevated our weavers and their families out of generational poverty."
Customers can visit the website to learn more about how purchasing a hammock through Pelican Hammocks helps families around the world.
About Pelican Hammocks
Pelican Hammocks is a family-owned company based in Saint Augustine, Florida dedicated to the sale of top quality, 100 percent hand-woven hammocks. For more information, please visit http://pelicanhammocks.com