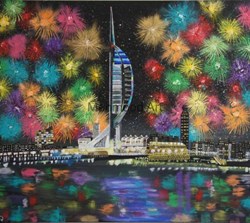 I paint what I like, I like what I paint.
Hampshire (PRWEB UK) 29 November 2013
Mahmood, originally from Iran, has been painting on canvas for many years. His full time day job is as an independent barber performing traditional wet shaves and haircuts for boys and men of all ages. But his true passion lies in putting brush to canvas, to convey unique interpretations of scenes from around the UK, mainly along the south coast.
His work consists of oil and acrylic paintings, and ranges from smaller abstract pieces such as 'Sky' to larger more detailed works such as "The Heath" – an acrylic painting of a much loved location in Petersfield, and arguably one his best paintings to date, and "Trafalgar 200 Anniversary", a view of fireworks exploding above the Spinnaker Tower in Portsmouth, reflected in the harbour, celebrating the 200th anniversary of the battle of Trafalgar. The majority of his paintings are done with a palette knife in order to develop textures in each painting, and he also likes to use vibrant colours.
Most artists have their own style and subjects they stick to but Mahmood doesn't feel the need to have a set style, instead being more "freestyle" in his approach. This gives him complete freedom in the direction his painting goes, and allows him total satisfaction, being free to follow his inspiration, and paint what he loves to paint the way he wants to paint it!
Mahmood has exhibited many of his more recent paintings at two local exhibitions - the "Petersfield Arts & Crafts Society exhibition" as well as a more intimate Art Exhibition at the Flora Twort Gallery. These exhibitions, whilst a good platform to showcase his work, had a limited audience. Next Mahmood will be looking for exhibitions in and around the Hampshire area with a larger audience to show off his paintings, but before that happens take some time to admire Mahmood's Art by visiting his new website: Mahmood Art.
ABOUT MAHMOOD ART
Mahmood, originally from Iran (Persia) learnt his Art from his family in the historic city of Shiraz, the birthplace of civilisation. Art, philosophy, literature, poetry & music were passions within the family and promoted with great importance. He now spends his days as a well-liked Barber in the market town of Petersfield Hampshire, and juggles his spare time between his family, and his painting. He is fortunate enough to live by the sea and spend time on the water especially during the summer time in Southsea & the Isle of Wight.
Find out more: http://mahmoodart.com
Phone: +447511 280423 / +442392 369549
Email: info(at)mahmoodart(dot)com