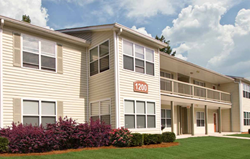 We see the acquisition of Hampton Point as a perfect fit to our existing portfolio and as another important step in building our multifamily and commercial assets in the Southeastern US
Atlanta, GA (PRWEB) February 02, 2016
PointOne Holdings, a real estate investment group with offices in Hollywood, Florida, and Atlanta, Georgia, acquired Bridge Mill Vista Apartments, a 276-unit, garden style, multifamily apartment rental community for $18,050,000. The Property was built in three phases between 1991 and 2000.
PointOne Holdings will rebrand the apartment community as Hampton Point. The complex is located in the Atlanta metro area in the city of McDonough in Henry County. Hampton Point fronts heavily-traveled GA Highway 20 (23,000 vehicles per day) and is located less than one mile east of I-75 which provides direct access to Hartsfield-Jackson Atlanta International Airport and Downtown Atlanta. The multifamily apartment community is minutes away from one of the Southeast's major logistics/distribution hubs which includes 47 million square feet of Class-A industrial warehouses serving as a connector between Atlanta and the expanding Port of Savannah.
Hampton Point's well-designed apartment units average a spacious 1,130 square feet and feature fully equipped kitchens, security alarm panels, entry foyers with closets, patio/balconies, large closet spaces, and full size washer/dryer connections.
The company plans to invest $2 million in capital improvements to the property. The renovation plan includes upgrades to unit interiors, as well as to the leasing and resident centers. Furthermore, PointOne Holdings plans to modernize and add more amenities including a new dog park, children's playground, fitness center, cyber-café, outdoor kitchens and fireplaces, new signage and a gazebo with picnic tables and outdoor grilling stations.
"We believe that Hampton Point has tremendous potential given its location within Henry County, a submarket which has experienced a considerable influx of high quality employers" said Ben Colonomos, a managing member of PointOne Holdings. "Hampton Point will be transformed by our investment in its apartment interior and amenity package upgrades as well as our attention to detail in management and customer service."
"We see the acquisition of Hampton Point as a perfect fit to our existing portfolio and as another important step in building our multifamily and commercial assets in the Southeastern US" said Leo Peicher, PointOne Holdings' managing member.
Assisted by Faron Thompson at JLL Capital Markets, PointOne Holdings assumed an existing Freddie Mac loan and contemporaneously obtained a supplemental loan from Freddie Mac to complete the acquisition. The transaction, including the assumption as well as the supplemental financing, successfully closed in less than 90 days.
About PointOne Holdings
PointOne Holdings is an investment and operating platform composed of highly skilled real estate professionals and entrepreneurs with a unique ability to originate, structure, underwrite, close, asset manage and reposition under-performing and value-add multifamily residential and commercial real estate. With offices in Atlanta and South Florida, the firm has the resources, experience and strategic relationships required to access, acquire and operate a broad range of investment opportunities throughout the southeastern United States.
The principals of PointOne Holdings have collectively owned and operated more than 9,000 multifamily apartment units and more than two million square feet of commercial property. PointOne Holdings currently owns and manages a diversified portfolio of residential and commercial assets with a value of more than $300 million.