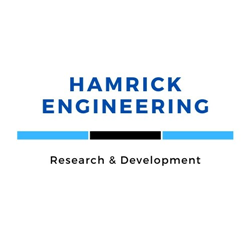 Ed Hamrick, President of Hamrick Engineering, says "With this technology we are very interested in talking with large pulp and paper mills. We offer a simple, low-cost add-on for them."
MIAMI (PRWEB) May 28, 2020
Hamrick Engineering has successfully and economically extracted arabinogalactan and taxifolin from larch (tamarack) wood chips, and been granted patents for this technique in the countries with the most larch trees – the USA, Canada and Russia. This technique is scalable to the sizes needed for large pulp and paper mills.
Arabinogalactan and taxifolin have been shown to have significant probiotic effects in both people and animals, and can aid in producing animal feed without antibiotics that can be labelled as 'organic' (and thus sell for a higher price).
Ed Hamrick, President of Hamrick Engineering, says "We're very excited about these excellent test results after many years of working on this technology. We've developed these technologies in Minneapolis, Minnesota and we've been consulting with a research institute in Saint Petersburg, Russia who have many years of experience working with arabinogalactan and taxifolin. Our aim is to find partners in some of the large pulp and paper mills in Russia and Canada. These mills have access to millions of tons per year of larch wood and have the infrastructure in place for harvesting, chipping and pulping this wood. Our technology is a simple, low-cost add-on to existing pulp and paper mills."
Larch wood chips are much more valuable for making pulp and paper if the arabinogalactan and taxifolin are first removed, but this is difficult and few pulp and paper mills will currently accept larch (tamarack). After extraction of the arabinogalactan and taxifolin, the paper produced from these chips is much stronger and more valuable than the paper produced without this extraction. In addition, the arabinogalactan and taxifolin have additional uses, are very valuable and have been approved worldwide for human consumption and as a component of animal feed.
More than 95% of the world production of arabinogalactan and taxifolin is by Lonza in Cohasset, Minnesota. Lonza sells about 4,000 metric tons per year of arabinogalactan for about $35/kg, Hamrick Engineering predicts making arabinogalactan extract (with 7% taxifolin) for less than $1/kg. The market price of taxifolin is about $1/g, so the expectation is to get about $70 of taxifolin for every kg of our extract. Larch wood from northern Minnesota contains about 7% arabinogalactan and contains up to 15% in parts of Russia.
The latest laboratory analysis from Celignis Analytical shows that Hamrick Engineering's larch arabinogalactan is almost identical to Lonza's ResistAid product, and that up to three times as much taxifolin from larch as Lonza is extracted by Hamrick Engineering (7.8% in Hamrick Engineering's extract vs. 2.4% in Lonza's ResistAid).
The cold-water soluble part of the extract is 98.3% arabinogalactan, and Lonza's ResistAid is 97.1% arabinogalactan, so the extract is slightly purer than Lonza's. (Taxifolin isn't soluble in cold water.)
In a separate analysis, Hamrick Engineering bought some larch chips that Lonza sold for playground bedding after they had extracted the arabinogalactan and compared them to the larch chips after extraction by Hamrick Engineering. Ed Hamrick says "Our technique extracts the same amount of arabinogalactan from the wood chips as Lonza. However, Lonza's technique damages the chips by squeezing, making them unusable for making paper (thus they sell these chips for playground bedding, which is a low-cost product).
Overall, these test results show that we simultaneously extract arabinogalactan and taxifolin, at a much lower capital cost than Lonza, and with the ability to scale to the size needed by a large paper mill."
About Hamrick Engineering
Hamrick Engineering was founded in 2013 by Edward B. Hamrick as a research and development company. Other technologies are for profitably producing sugars and ethanol from sugar beet, sugarcane, sweet sorghum, softwood wood chips and straw. There are four families of CelloFuel patents that have been granted in the US and around the world, including the EU, Canada, Russia, China and Brazil.
For further information on CelloFuel please visit http://www.cellofuel.com or for marketing enquiries email Beverley Nash: beverley@hamrick.com
Biographical information:
Mr. Edward Hamrick is the inventor of this technology and has a degree (with honors) in Engineering and Applied Science from the California Institute of Technology (CalTech). He worked for a number of years at NASA, Boeing and Convex Computer Corporation, and has been a successful entrepreneur for the past 15 years.
Dr. Luca Zullo has provided consulting services, patent reduction to practice and validation testing of this technology. He holds a Degree in Chemical Engineering from the University of Padua, Italy and a Ph.D. also in Chemical Engineering from Imperial College of Science, Technology and Medicine in London, United Kingdom. He started his career at Shell Research in The Netherlands where he participated in the design and automation of novel petrochemical and oil processes. He joined Cray Research to lead the effort to apply high-performance computing applications to the petrochemical and oil refining industry. After joining Cargill, he focused on biofuels and bio-energy in plant operations with an emphasis on "waste" to energy and second generation biofuels. During that time, he also led the technical effort of a group that developed domestically and internationally methane capture and bio-energy projects in agricultural operations to harvest renewable energy and carbon credits. He is the founder of VerdeNero LLC, a technical service and consulting firm for the biomass and biofuels industry.
Contact Dr. Zullo for technical enquiries at: info@verdenerollc.com
For further information and business enquiries please contact Daniel Cobelo at danielcobelo@cellofuel.com and for press enquiries contact Beverley Nash: beverley@hamrick.com