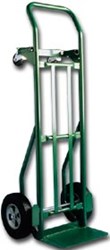 The steel convertible truck is one of my favorite hand trucks that we offer. If I like it than I am sure the customers will too
Salt Lake City, Utah (PRWEB) August 21, 2013
A Plus Warehouse is happy to introduce product of the day. Product of the day is a simple way to give customers a taste of the array of products offered. With so many products offered, it is easy for customers to miss a few. The product of the day is always a popular product or a product that the company feels deserves more attention. Today's product of the day happens to already be fairly popular. The product of the day is the steel convertible truck. According to Ed Stairman, president of A Plus Warehouse, "The steel convertible truck is one of my favorite hand trucks that we offer. If I like it than I am sure the customers will too."
This product falls under A Plus Warehouse's hand truck line. Hand trucks are used almost anywhere and the company stock them nationwide. Many people make the mistake of carrying heavy items using their hands. This is a very common mistake. Trying to hand carry heavy items can and often does lead to back problems or other serious injuries. Hand trucks may cost more than just lifting an object by hand in the short run, but in the long one the benefits of a hand truck outweigh the costs. There are various subsections under the hand truck section. These subsections include battery-powered stair climbing appliance trucks, dollies, drum and cylinder trucks, hand trucks, and convertible hand trucks. Today's product of the day lies under the convertible hand trucks subsection.
The steel convertible truck is obviously made from steel. This article is going to go briefly into the benefits of steel as opposed to other elements. First of all steel is relatively inexpensive. All customers like inexpensive! Of course at the same time it is also good quality however. A Plus Warehouse does not sell any low quality items. Steel is also extremely durable and safe. When ordering a steel item, customers know it will never burn, rust or get eaten by pests. Steel also doesn't need to be treated with pesticides. This makes it safer for handling. Steel is also great for the environment. This is because of steel longevity and recyclability. Steel has many other benefits as well but it is time to discuss the actual product!
The steel convertible truck quickly converts from two to four wheels in a snap of a finger. The unique snap-button handling system makes this product conversion simple and efficient. This product has quick shipping times all across the country. Customers should order theirs today.
A Plus Warehouse is the operator of http://www.apluswhs.com and distributes materials handling and storage equipment nationwide and throughout Canada. The sales staff at A Plus Warehouse is available at 800-209-8798. A Plus Warehouse has been in constant operation since 1996.