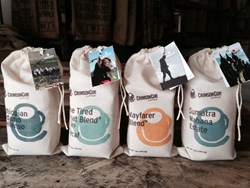 Each coffee represents an optimal collaboration between coffee farmer and roaster to create an awesome, responsibly sourced cup of java - Greg Ubert
Columbus, OH (PRWEB) December 27, 2013
Ohio Coffee Roaster Crimson Cup Coffee & Tea has introduced five new offerings to its growing menu of handcrafted specialty coffees: Ethiopian Sidamo Kellenso, Sumatra Wahana, Jorge's Pick, Wayfarer Blend and The Tired Goat Blend.
"These new coffees join our lineup after an exhaustive search that included months of sourcing and cupping," said Founder and President Greg Ubert. "Each represents an optimal collaboration between coffee farmer and roaster to create an awesome, responsibly sourced cup of java."
Ubert said the coffee roaster's search for new coffees begins at origin or with importers who support sustainable practices, "We only buy coffee beans that positively impact the farmers who grow them, and we're committed to showcasing their hard work with the ideal roast profile."
The new coffees were selected from hundreds of samples cupped by Coffee Buyers Brandon Bir and Dave Eldridge. Working with Master Roaster Dave Rochus, the Crimson Cup team refined the roast profile for each coffee by repeatedly brewing and cupping coffees using an espresso machine and a variety of hand-brewing methods. Most of the coffees are lightly roasted to bring out their origin characteristics.
Beautifully balanced Sidamo Kellenso is grown in in the Sidamo province of southern Ethiopia, where coffee was discovered. This natural, unwashed coffee is dried on raised beds for a super-clean finish. The heirloom bean offers lemony acidity with notes of wild strawberry, plum and dark cherry. It's exceptionally smooth, with a buttery finish.
Sumatra Wahana is shade-grown in the volcanic soils of northern Sumatra. Organically fertilized, this light-roasted coffee offers notes of caramel, raspberries, and honey, with a cleaner finish than seen in most Sumatran coffees. "The Wahana Estate sources much of its coffee from local small farmer groups," Ubert said. "The estate nurtures its relationship with farmers through a Farmer Support Center that helps by providing seeds as well as information about farm management, shade tree placement and organic farming." Currently, Wahana Coffee is working to receive its Organic and Rainforest Alliance Certifications.
"Our Guatemalan friend, Jorge Ovalle, brings us a variety of his favorite coffees that we incorporate into Jorge's Pick," Ubert said. This rotating blend includes offerings that vary by region, elevation, varietal and process. "It all hinges on the decisions of Jorge. What makes him so special? He was born into a coffee family, with his father being one of the most respected cuppers in the world. Developing a passion for coffee at a young age, Jorge made his way to the U.S. to become the world's youngest Q-grader, a certification that allows cuppers to grade Arabica coffees."
Wayfarer Blend uses current crop-coffees to create a tasty cup of coffee with notes of wild strawberry, plum and tree nuts. With medium body and acidity, it's ideal for espresso, drip or hand-pour methods of brewing. "Wayfarer literally means traveler, and this blend will use a rotating variety of coffee beans selected in our cupping lab," Ubert said.
"Our Tired Goat Blend takes its name from the iconic Arabic goat-herder who is credited with the discovery of coffee," Ubert said. This blend contains Fair Trade Organic coffees from Central America, South America, and Indonesia that have been naturally decaffeinated through the Swiss Water Process. For regular and decaffeinated coffee drinkers alike, Tired Goat offers a clean, sweet and balanced cup with notes of citrus, chocolate, and sweet caramel.
Crimson Cup has introduced new packaging to distinguish these hand-selected coffees. "Exterior cotton twill bags give a handcrafted feel, while brown kraft bags inside are stamped with each coffee's name," Ubert said. "The bags are tied with a drawstring and two tags highlighting the coffee profiles, specifications and story of origin."
Crimson Cup's new coffees are available online, at the Crimson Cup Coffee House in Clintonville, and at specialty grocers including Weiland's Market in Columbus.
About Crimson Cup Coffee & Tea
Since 1991, Crimson Cup Coffee & Tea has hand-roasted specialty coffee in Columbus, Ohio and taught independent business owners how to be successful through its coffee shop franchise alternative program. Sustainably sourced Crimson Cup coffee is available through a network of more than 350 independent coffee houses, grocers, college and universities, restaurants and food service operations across 28 states, as well as the company's own Crimson Cup Coffee House in the Columbus suburb of Clintonville. For more information, visit crimsoncup.com.