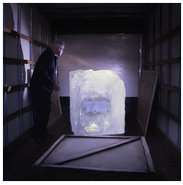 We wanted to take a fresh approach to capture the meaning of 'Vanishing Ice'.
Seattle, WA (PRWEB) October 15, 2013
Hand Crank Films was tapped to promote the landmark 'Vanishing Ice' exhibition, which is opening in Bellingham WA on November 3rd at the Whatcom Museum. The exhibition frames a unique body of art in the context of climate change, tracing the impact of glaciers, icebergs, and fields of ice on artist's imaginations. These glacial connections extend between artists over two centuries - and the goal of the promotional film is to provoke the discussion surrounding global warming while at the same time building awareness around this one of a kind exhibition.
You can view the provocative spot here: http://www.handcrankfilms.com/the-vanishing-ice-exhibit/
"When we were approached by the Whatcom Museum to shoot a commercial for this event, we knew we had to take a fresh approach to capture the meaning of 'Vanishing Ice' and it's many implications," says Chris Donaldson, who co-directed the piece along with Cameron Currier. "The film had to be about more than just advertising, and hopefully it lives up to the great artists like Ansel Adams who are being displayed."
The piece was shot at the museum location, and utilized the RED Epic camera as well as some old school special effects to capture the 'block of ice'. The exhibition itself will feature a wide array of materials, media, and techniques that artists have employed to vividly capture the frozen landscape, and includes artists Ansel Adams, James Balog, Otto Olaf Becker, Rena Bass Forman, Lawren Harris, Helen and Newton Harrison, Frank Hurley, Issac Julien, Kahn & Selesnick, Rockwell Kent, Paul D. Miller/DJ Spooky, Alexis Rockman, and Spencer Tunick.
"There's lots of debate around global warming, certainly," continues Donaldson. "But the point is to move beyond the usual arguments and reflect on the issue with a new perspective. That's the goal of any good story-telling."
You can view the spot here: http://www.handcrankfilms.com/the-vanishing-ice-exhibit/.
To learn more about the exhibit, please visit: http://www.vanishing-ice.org.
About Hand Crank Films
Hand Crank Films is a Seattle video and film production company that was started in 2005 and has produced a variety of commercials, corporate videos, and feature films. With offices also in Bellingham and Washington D.C., the company has won 3 ADDY Awards, 6 Telly Awards, a Cine Golden Eagle, and a Golden Mercury Award for Documentary Excellence. Clients include the Bill and Melinda Gates Foundation, Peacehealth Medical Group, Catholic Health Initiatives, Kona Bicycles, Outdoor Research, Superfeet, JayRay Communications, Colehour + Cohen, and others.
Got a Story to Tell? Contact Chris Donaldson at chrisd(at)handcrankfilms(dot)com or 360.383.6376.