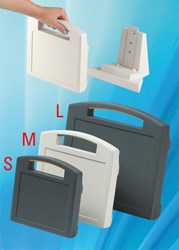 All three sizes of CARRYTEC can be used as suspension arm housings but the new L model is particularly well suited because of its size.
Bridgeville, PA (PRWEB) December 13, 2013
OKW has completed the development of its unique CARRYTEC range of portable instrument enclosures by adding new larger size L models to the existing size M and S versions.
CARRYTEC L has one of the largest internal volumes of any OKW equipment case. It is significantly larger than the M size.
OKW's CARRYTEC enclosures are designed to house portable electronics instrumentation. They are available with optional docking stations for charging and data transfer when the equipment is not being carried.
Typical applications include medical and wellness equipment, data recording and monitoring, communications technology, measuring instruments plus agricultural and forest management electronics.
CARRYTEC is not just for handheld applications. It is ideal for use as a suspension arm enclosure, thanks to its robust integrated handle.
This makes a perfect grab point when the unit is inverted and fitted on the suspension arm, making it easy to maneuver and position the equipment.
OKW Enclosures, Inc, Vice President, Sales, Sean Bailey said: "All three sizes of CARRYTEC can be used as suspension arm housings but the new L model is particularly well suited because of its size."
The new size L models have external dimensions of 13.70" x 11.93" x 4.61". CARRYTEC S (8.74" x 8.07" x 3.15") is one of OKW's smaller housings while the M size is 10.62" x 9.72" x 3.58".
CARRYTEC is offered in two standard materials: ABS (UL 94 HB) in Off White (RAL 9002) for indoor use and fiberglass reinforced polyamide (PA GV) in Lava Gray for tougher outdoor use. An IP54 sealing kit is also available as an accessory.
"Once again CARRYTEC is proving to be extremely versatile. Our decision to manufacture it in a choice of materials makes it great choice for both indoor and outdoor applications," said Mr Bailey.
CARRYTEC enclosures are very easy to assemble. The top, bottom and handle grip moldings are assembled using five security screws (Torx T10).
The handle grip is molded in soft touch TPE material to make CARRYTEC comfortable to carry.
CARRYTEC'S top section has a recessed area for membrane keypads, displays and touch screens. Inset flat sections on the underside are designed for mounting connectors or control switches. Screw pillars are provided in the top and bottom for housing circuit boards, displays and assemblies. Prices for size L start at $56.
The docking station can be mounted on a wall, machine housing, or simply used on a desk. A snap-lock holds the enclosure in the station at a convenient viewing angle of 15 degrees. Data transfer and charging is facilitated by five-pole contacts fitted to the case and station base parts.
Other accessories include battery compartments for five 1.5V AA cells and a medical holding clamp for round tubes or rails.
OKW can supply CARRYTEC enclosures fully customized with additional holes, silk-screen print legends and logos. RFI shielding is also available.
Features of CARRYTEC enclosures include:

Ergonomic enclosure with a strong integrated handle for durability and a soft-touch grip for comfortable portability
The handle is located above the center of gravity to ensure balanced carrying
Large internal volume to house a wide range of electronic instruments
Wide recessed area in the top section for the location of displays and membrane keypads
Three inset areas on the underside for installing switches, connectors and cable glands
Internal screw pillars for PCBs
Molded in ABS or PA for indoor or outdoor use
Optional station for desktop use or mounting to a wall, machine housing or vehicle
Docking station can be used for charging and data transfer using the accessory contacts
Suitable for mounting to suspension arms
Assembled using anti-tamper Torx T10 screws
Battery compartment for five 1.5V AA cells can be fitted (machining required)
Material/Color – ABS housings (UL 94 HB) Off White, RAL 9002; reinforced PA Lava Gray cases, NCS S 7502-B; reinforced ABS Off White, RAL 9002 (holding clamp)
Protection Class – IP54 (with optional sealing kit)
Accessories – desk/wall station, station base panel, holding clamp, IP54 sealing kit, battery compartment (x5 AA), contacts, PCB screws, T10 screwdriver
Applications – medical, wellness and laboratory devices, peripheral and interface equipment, communications technology, safety engineering, data recording, monitoring and detection systems, measuring and control technology, robotics, agriculture and forest management.
OKW has at least four decades of experience in the design and manufacture of electronics and electrical enclosures for industrial and office use.
For more information about CARRYTEC and other OKW plastic housings, view the website or contact OKW Enclosures, Inc, Vice President, Sales, Sean Bailey, Tel: 800-965-9872.
-Ends-
Notes for Editors
OKW ENCLOSURES, INC.
Abele Business Park
3000 Old Pond Road
Bridgeville
PA 15017
USA
Tel. 800 965 9872
Tel. 412 220 9244
Fax. 412 220 9247