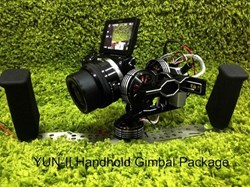 It is easily adjustable for you to balance the camera when you want to change the position of the camera or the lens
New York, NY (PRWEB) January 08, 2014
The Yun Team, a multinational group made up of a variety of experts, has just announced a fundraising campaign on the Indiegogo website. The group hopes to raise enough money to market their innovative handheld stabilizer for digital cameras. The YUN-II Gimbal set for Sony Nex 5/7 and other cameras under 500g is perfect for both traditional photographers and remote control aerial videographers who want to capture footage in challenging conditions.
As an article that accompanies the fundraising page on the Indiegogo site explains, the YUN-II Gimbal is a 3 axis camera stabilizer that features a remote control function. The package, which is ideal for action cameras under 500g, includes a variety of devices, including a controller, which allows the YUN-II to be highly customized to the user's camera. The YUN-II, which started out as a simple BGC Alexmos Project for camera under 500g, features a mode for creative mounting possibilities as well as a remote mode.
In order to make the YUN-II Gimbal set as sturdy as possible, the Yun Team has created a frame made from high quality and strong materials including carbon fiber, aircraft aluminum, and stainless steel. In addition, the battery works with both the controller and the FPV screen power supply, and the handle bar is made from stainless steel and rubber and features a built-in leveler that makes it both comfortable and easy to use.
"It is easily adjustable for you to balance the camera when you want to change the position of the camera or the lens," the article noted, adding that all of the connector plugs are designed to be on one side, and it also has a special designed case that is compatible with both a MAC and PC.
"What makes the YUN-II the greatest Gimbal is that besides ensuring stable performance, we also focused on the whole design package, user friendly detail, and a 3 axis stabilizer that is still the cutting edge in technology - supported by the customized motor. The easily adjustable structure, remote power switch battery and great looking design handholding platform are just the bonuses."
Anybody who would like to learn more about the YUN-II Gimbal set is welcome to visit the Indiegogo website at any time; there, they can read more about the project and watch a video that illustrates how it works.
About the YUN-II Gimbal Set:
The YUN-II Gimbal set is a handheld stabilizer for digital cameras that is being produced by the Yun Team. The group recently launched a fundraiser on the Indiegogo website to raise money to help fund their innovative project. For more information, please visit http://www.indiegogo.com/projects/yun-ii-gimbal-set-camera-stabilizer-for-innovative-filmers or http://www.actioncamz.com.