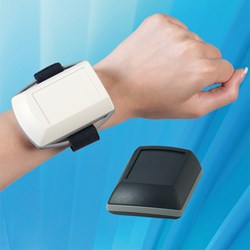 The new XS size offers a wealth of possibilities for designers of handheld and other personal electronics solutions.
Fareham, Hampshire (PRWEB UK) 28 August 2013
OKW has extended its advanced ERGO-CASE hand held electronics housings with six new smaller size XS models.
The new extra small cases are ideal for compact hand held electronic devices and have an ergonomically contoured design which is very comfortable to hold or wear.
The cases can be specified with two lateral eyelets for fitting the device to a wrist strap or belt – or an eyelet in the end for carrying it on a lanyard.
Typical applications include personal electronics such as medical and wellness equipment, security devices, building access and dosage detectors.
Each ERGO-CASE XS consists of a top, base and intermediate ring (plain, or with one or two eyelets) which are assembled with two self-tapping screws.
The enclosures have external dimensions of 82 x 56 x 24 mm and are moulded in ABS (UL 94 HB) in Off-white or Black with the intermediate ring in grey soft-touch TPE elastomer.
The top part has a recessed area for mounting a membrane keypad or product label. Screw pillars in the top section and location pillars in the base section are provided for fitting PCBs and battery assemblies. Prices start at £10.
ERGO-CASE is complemented by a wide range of accessories which includes belt clips, wrist straps, belt/arm straps and lanyards.
Customising options for ERGO-CASE include CNC milling and drilling of holes and cut outs, silk-screen and tampo printing of legends and logos, EMC shielding and assembly of components.
OKW Sales and Marketing Director Robert Cox said: "ERGO-CASE is an incredibly versatile range of enclosures – even by our standards.
"The new XS size offers a wealth of possibilities for designers of handheld and other personal electronics solutions," he added.
Features of ERGO-CASE enclosures:

Designed for housing the latest electronics
Highly versatile; can be hand-held, worn on the body or mounted on a wall
Unique design, ergonomically contoured for comfortable wearing or holding
Eyelet accessory for fitting belt or arm straps
Top recess for mounting membrane keypads
Size L is available with a clip-in display panel in either translucent PC or solid ABS
Flat end panel is perfect for mounting connectors, switches, LCDs
With or without battery compartment lid
Battery cradles and contacts for 1.5V AA or 9V cells (can be ordered separately)
Wall mounting kit with optional contacts for charging and/or data transfer
Size XS with TPE intermediate rings with or without eyelets for carrying accessories
Internal screw pillars for mounting PCBs
Material – ABS (UL 94 HB)
Protection Class – IP54 (with sealing kit)
Standard Colours – Off-white (RAL 9002), Black (RAL 9005)
Accessories – belt/arm straps and eyelet kits; battery cradles and contacts; wall mounting kit and contacts; belt/pocket clips; hand strap and lanyard.
Other handheld enclosure ranges offered by OKW include MINI-TEC for companion electronics such as remote controls.
Like ERGO-CASE, MINI-TEC can be worn on a neck lanyard or a wrist strap. It has soft touch TPE intermediate rings with a choice of loops and eyelets. The cases and rings offer a wide range of standard colour combinations.
OKW's ranges of handheld housings also include the revolutionary range of BLOB contoured enclosures. These highly ergonomic electronics cases have been designed to be extremely intuitive to use.
There are three designs in the BLOB range – UNIT, CONTROL and PANEL. They all have a large recessed area for mounting a membrane keypad.
Hampshire-based OKW designs and manufactures more than 60 different ranges of enclosures – including specialist standard housings for laboratory instruments.
For further information, view the website or contact Sales and Marketing Director Robert Cox, +44 (0)1489 583858.
OKW ENCLOSURES LTD
15 Brunel Way
Segensworth East
Fareham
PO15 5TX
Tel: +44 (0)1489 583858
Fax: +44 (0)1489 583836